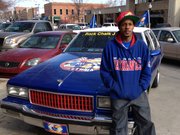 Terrell Miller's car turned some heads in Lawrence this weekend.
It was hard to miss, a kind of Jayhawkmobile with KU decals, flags, and a crimson and blue paint job. Virtually every surface of the car is somehow decorated in Kansas University colors. Parked on Massachusetts Street a few hours before tipoff of Saturday's game between Kansas and Oklahoma, passersby honked and hollered their admiration for Miller's ride.
The car is a 1989 Chevy Caprice Classic, and the custom wheels are 26 inches. Miller has been working on it for about a year, and he's not finished yet. A big KU basketball fan from Wichita, Miller grew up watching the Jayhawks on TV with his grandmother, he said. He came to town early Saturday morning for the game and heard compliments about the car all day.
It was a big difference from being in Wichita, Miller said, where the public's admiration is less unanimous. Once someone vandalized the car with a key. Miller said his girlfriend speculated the perpetrator was a Kansas State fan, but he didn't know whether that was true. It was an isolated incident, he said, and he finds admirers in his hometown, too.
"I get love in Wichita, but here I've been getting a lot of attention, a lot of love," Miller said.
Miller is proud of the car but also anxious about various nicks and dings in the paint. He said he plans to keep working on it, touching up the paint and adding decals.
The next big addition, he said, would be a car horn that plays the KU fight song.
Copyright 2018 The Lawrence Journal-World. All rights reserved. This material may not be published, broadcast, rewritten or redistributed. We strive to uphold our values for every story published.