Abbey Casady never has been one to turn down a defensive assignment. Not even Friday night, when Free State High girls basketball coach Bryan Duncan asked the 5-foot-9 senior to guard Topeka West's future NCAA Division I player, 6-2 senior forward Autura Campbell.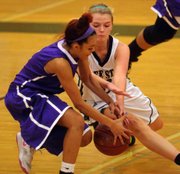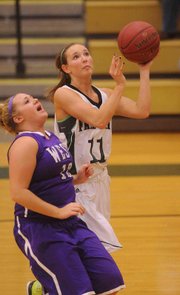 Casady's speed and footwork on defense, coupled with swarming help from the rest of the Firebirds defenders, forced the University of Tulsa commit to miss her first nine shots and FSHS held the Chargers without a field goal for the first 19:48 of a 58-24 walloping in the Firebird Winter Classic semifinals.
With Campbell unable to keep the Chargers (3-9) in the game, FSHS forced Topeka West to miss its first 18 field-goal attempts. West's only first-half points came via three free throws in the first quarter and one in the second. By the time Campbell hit a shot inside with 4:12 left in the third quarter, Free State led 43-6.
"Abbey set the tone by bumping (Campbell) every time she tried to cut through," Duncan said. "Any time she moved, you felt like Abbey was right under her — right in her armpit basically. She was just all over her and I think that really frustrated her and made her ineffective in the first half. And that set the tone for the whole night."
The night before, in another FSHS blowout win, Casady defended Highland Park's point guard. Though she only scored two points for the Firebirds, Casady's defensive versatility played a huge role against TWHS.
"She might be our littlest player, physically," Duncan said of Casady. "But she's also our best defender and toughest defender."
Casady had never defended a player like Campbell, but she was up for the test.
"It's kind of fun because I knew she could do both — she was kind of their point guard and (played) inside, an all-around player," Casady said.
It was Free State's goal to keep Campbell frustrated.
"We did a good job of moving our feet so we didn't foul," Casady added.
Campbell finished with 11 points and 12 rebounds, but six of her points came in the fourth quarter, when Free State (8-3) had gone to its bench. She only made three of her 15 shot attempts, and the Firebirds' team defense as a whole gave the Chargers fits. The other eight West players combined to go 0-for-15 from the floor and TWHS finished with 21 turnovers.
Duncan's team, on the other hand, hit 21 of its 54 shots and gave the ball away seven times.
"I thought we played with a lot of confidence, and once you get on a roll that can be effective," the FSHS coach said. "We made a lot of shots in that first quarter, and it's no secret that with our style of team we've got to get up and down the floor, and when we're making shots, it can get kind of fun."
The Firebirds opened the game on a 12-0 run and closed the second with a 17-0 stretch that they extended to 27-0 in the opening minutes of the third.
Senior guard Kennedy Kirkpatrick, easing her way back from a left knee injury, returned to the starting lineup and scored a game-high 16 points to go with four steals and three assists.
Junior forward Scout Wiebe scored 11 points, pulled down eight rebounds and passed out three assists.
Senior guard A'Liyah Rogers, who came off the bench in her first game since suffering a groin injury, drained three three-pointers in a 1:12 stretch late in the second quarter.
Junior guard Millie Shade, who started for Rogers, scored seven points and recorded three steals.
Senior Chelsea Casady scored six points, dished four assists and secured four rebounds.
Following the team's third straight victory of 30-plus points, Abbey said FSHS is starting to play closer to its potential.
"It's not like something we did was amazing," she said. "It's just something we should have been doing."
The Firebirds will attempt to win their second straight Firebird Winter Classic when they meet Washburn Rural in the championship game today at 2:15 p.m. Free State has won its home tournament twice — in 2010 and 2012 — in its previous 12 years of existence.
Copyright 2018 The Lawrence Journal-World. All rights reserved. This material may not be published, broadcast, rewritten or redistributed. We strive to uphold our values for every story published.