Police are investigating the death of a man who suffered a knife wound in his chest Wednesday afternoon at a house in the 1800 block of Haskell Avenue.
Police and Lawrence-Douglas County Fire Medical responded about 12:45 p.m., and the man was pronounced dead at the scene, said Sgt. Trent McKinley, a Lawrence Police Department spokesman.
Lawrence police on the scene Wednesday began a death investigation, taking statements from witnesses and collecting evidence. There were other people at the house with the man when he suffered the injury, police said.
Police did not release other details about the incident Wednesday, including the man's identity.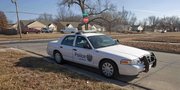 * To view recent LJWorld crime stories, click here.
* Click here to view the weekly arrest log.
Copyright 2018 The Lawrence Journal-World. All rights reserved. This material may not be published, broadcast, rewritten or redistributed. We strive to uphold our values for every story published.