A truck northbound on Iowa Street collided with a cyclist at the intersection of Harvard Road around 12:30 p.m. Tuesday, critically injuring the cyclist.
Lawrence police Sgt. Trent McKinley said that the truck, a commercial vehicle, ran a red light at the intersection while the cyclist, a 22-year-old Kansas University student, was crossing Iowa Street.
A LifeStar helicopter landed in nearby Centennial Park to transport the cyclist to a Kansas City-area hospital. The man suffered life-threatening injuries.
McKinley said the truck driver was not injured. No citations had been issued Tuesday afternoon.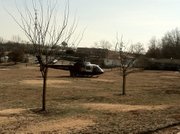 Police are not releasing the accident victim's name until his family is notified.
Copyright 2018 The Lawrence Journal-World. All rights reserved. This material may not be published, broadcast, rewritten or redistributed. We strive to uphold our values for every story published.