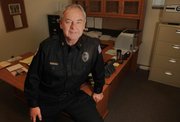 New Eudora Police Chief Bill Edwards, 60, who began in December, recently sat down with the Journal-World to talk about his background, his impressions of Eudora and his vision for the police department moving forward.
Background
Edwards, a Kansas City, Kan., native, brings more than 30 years of law enforcement experience to Eudora. Between 2007 and 2012, he was the police chief for the Park City Police Department near Wichita. Before that, Edwards spent 33 years with the Kansas City, Kan., Police Department, where he served a variety of roles in narcotics, community policing and training.
Impressions of Eudora so far
Edwards said he was originally interested in the position because it brought him closer to his hometown and family. And so far, he has been impressed by the red carpet Eudora residents have rolled out for him.
Edwards has appreciated "the willingness of the people in the area to reach out and help," he said of his early interactions in his new home. "It's one of those things they really mean."
He has been making his way around the city, visiting restaurants during the work week and attending youth sporting events on weekends.
Vision for the police force
Edwards doesn't envision any major changes to the 16-officer force in Eudora.
"I really don't see anything that's broken," said Edwards, who emphasized the leadership of several department sergeants.
But he hopes to continue a departmentwide attitude of knowing the community. In his short time, he has been encouraged when residents come in and ask for officers by name.
"If I see (an officer) sitting on a porch drinking a glass of tea or lemonade (with a resident), it's great," he said.
Personal life
Edwards and his wife, Cheryl, enjoy catching up with family, which is based mostly in Springfield, Mo., on the weekend. Edwards has three grown daughters and two grandchildren.
An avid sports fan, Edwards previously coached women's basketball and men's golf at Piper High School. Though a season ticket holder of Kansas State football, Edwards — a graduate of Mid-America Nazarene University in Olathe— remained diplomatic about his sports allegiances, saying he's a fan of all Kansas teams.
Copyright 2017 The Lawrence Journal-World. All rights reserved. This material may not be published, broadcast, rewritten or redistributed. We strive to uphold our values for every story published.