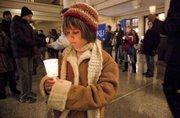 With Washington, D.C., full of pomp and circumstance for the second inauguration of the nation's first black president, Kansas University on Monday held its own ceremony to honor the man who may have helped pave President Barack Obama's way.
More than 50 people stood in the Strong Hall rotunda Monday afternoon to listen to excerpts of Dr. Martin Luther King Jr.'s "Letter From Birmingham Jail" before proceeding with lighted candles to a Martin Luther King Jr. Day celebration in the Kansas Union.
"It's so important with African-American history that today we have our first African-American who has been elected twice," high school student Diamond Townsend, of Topeka, said of the holiday falling on the day of the inauguration.
Distinguished professor of English Maryemma Graham spoke about the meaning of the day and the candlelight procession.
"It represents light in a dark world," she said. "But it's also for those who have come before us and lighted the way in that struggle."
The procession ended in the Big 12 Room at the Union, where Hannah Bolton, student body president, and others commemorated the day.
"It's a huge moment in our history and for us as students," Bolton said. She added that the university's celebration of the day was important because it helped bring forth and celebrate KU's diversity.
Also during the celebration, KU's Inspirational Gospel Voices choir performed, and winners of the Martin Luther King Jr. essay contest from Lawrence Memorial Central Middle School and Lawrence High School.
Martin Luther King Jr. essay contest winners
David Krejci and Annie Olson, Liberty Memorial Central Middle School
Marlee Bird and Emily Saunders, Lawrence High School
Copyright 2018 The Lawrence Journal-World. All rights reserved. This material may not be published, broadcast, rewritten or redistributed. We strive to uphold our values for every story published.