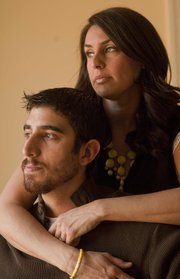 KU marrow donor registry drive
• In honor of Jonathan Mathews, a KU student in need of a stem-cell transplant because of lymphoma
• 10 a.m. to 2 p.m. Feb. 4, Traditions area on fourth floor of the Kansas Union
• Open to potential donors ages 18 to 44
• All that's required at drive: Answer questions about eligibility, undergo cheek swab.
• To contribute to drive, which costs $100 per registrant, go to bethematchfoundation.org/goto/TeamMathews
Sharilyn Mathews never expected to organize a marrow donor drive.
But then again, she and her husband, Jonathan, never expected him, a man in his early 20s fit enough for active military duty, to receive a cancer diagnosis — twice.
"You like to think that you can kind of control your own life," Jonathan said, "and all this is out of our hands."
While Jonathan concentrates on his treatment for lymphoma, Sharilyn has found something she can focus her energy on: a marrow donor registry drive on the KU campus, set for Feb. 4.
Though the drive is almost certainly not going to help Jonathan, it could very well help someone somewhere in a similar situation.
Jonathan and Sharilyn are both Kansas University students, and they live just off the KU campus in Lawrence. They met through the military and married five years ago.
Now they have two young boys: 4-year-old Riley and 1-year-old Grayson. Both Jonathan and Sharilyn are in the Kansas Air National Guard — Jonathan on active duty as a part of the security force at Forbes Field in Topeka, and Sharilyn in the reserves.
In April 2010, what doctors thought might be the flu or pneumonia turned out to be non-Hodgkin lymphoma. Aided by intense chemotherapy and a transplant of stem cells from his own bloodstream, he was declared in remission a few months later.
But in November 2012, during a routine screening, doctors discovered another mass in his chest. After a biopsy, he learned he again had lymphoma. But it was actually the other variant of the disease: Hodgkin lymphoma.
"That never happens," Sharilyn said. "They were kind of shocked."
Doctors' theory was that he had both kinds of cancer all along, Sharilyn said.
He would again need a stem cell transplant to recover from the extensive chemo required, but this time his own cells wouldn't do. His immune system had proved it couldn't fight the cancer on its own.
He would need stem cells from a donor, which requires a near-precise genetic match. No one in his family was a match, so he was placed on a national registry of people in need of bone-marrow or stem-cell transplants because of blood diseases such as lymphoma or leukemia.
When Sharilyn heard about this registry, called Be The Match, she asked how she could be put on the list of potential donors. The answer was to visit a donor registration drive, where workers will swab cells from potential donors' cheeks and store their genetic information.
Sharilyn couldn't find any registration drives nearby. So she decided to put one together herself.
"I don't have a clue what I'm doing, but it seems like everybody is very responsive," Sharilyn said.
As Jonathan waits for doctors to find a donor for him, Sharilyn is spreading the word about a Feb. 4 drive on the KU campus in his honor.
Sharilyn said she'd never been aware of a similar drive before Jonathan's diagnosis, and she hopes to catch the attention of other people who've never thought of registering.
"It just seems like it flies under the radar," Sharilyn said.
But in addition to spreading the word to potential donors, Sharilyn is working to raise funds. It costs Be The Match about $100 to add each person to its registry, and it asks drive organizers to do what they can to support that cost. Sharilyn's goal, she says, is to raise more money than is needed for this drive alone.
A taco dinner in Lecompton, Jonathan's hometown, will help raise some funds. It will be 4:30 p.m. to 7 p.m. Jan. 31 at the Lecompton United Methodist Church, 402 Elmore St.
The Underground Lab fitness center, 919 E. 29th St. in Lawrence, where Jonathan's brother works, will also have a group workout fundraiser on Feb. 2. And anyone can donate to the drive at bethematchfoundation.org/goto/TeamMathews.
Jonathan's doctors at KU Hospital, meanwhile, say that they've found several potential donor matches, and the family is hopeful help is on the way.
Jonathan, 24, is one semester from a history degree, but he's taking the spring semester off because a transplant would require him to spend more than three months in isolation.
"What's another year, at this point?" Jonathan said with a smile, reflecting the dark humor he and Sharilyn like to use to refer to his cancer. Treating cancer like a scary monster is reserved for "people going through a really tough time," Sharilyn says, and they believe Jonathan is going to make it.
But that will make them no less thankful when Jonathan finds a donor, who will likely never find out whose life he or she saved.
"It's a complete stranger, giving a part of him to a complete stranger to save their life," Sharilyn said.
Copyright 2018 The Lawrence Journal-World. All rights reserved. This material may not be published, broadcast, rewritten or redistributed. We strive to uphold our values for every story published.