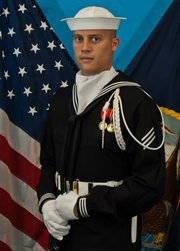 During the last U.S. Presidential Inaugural Parade, Philip Sierra was a student at Free State High School and the last person he thought who would join the military. At today's parade, he will be part of the U.S. Navy Ceremonial Honor Guard, within feet of President Barack Obama.
"It's something I never thought I would be a part of," Sierra said. "This is going to be broadcast for everyone to see. It's monumental, and it's crazy and it's an honor to represent the country and represent the nation."
Sierra will be one of 81 men and women marching in a nine-by-nine formation of active duty Navy members. He will be in the middle row of the group, three rows from the front.
The group has been preparing since Thanksgiving for the parade, which begins at 1:30 p.m. CST today. The training has included two to three hours of daily marching for the last two weeks.
According to Sierra, getting that big of a group of people to perfectly turn a corner is far from a walk in the park. "It's been taking a lot of work and yelling to get that figured out."
When Sierra isn't marching, he's making sure his uniform looks impeccable, polishing his brass and ironing creases for hours at a time.
"We press (the uniform) so much we burn the wool, which turns shiny. That's how you get the perfect crease."
Sierra, who briefly attended Kansas State University before working as a custom harvester, is getting used to such preparations. He has been part of the U.S. Navy Ceremonial Honor Guard for about eight months after being recruited out of base camp.
"I must have impressed somebody, I don't know," he said. "Before I joined I said, 'man that would be cool, I'd like to do that.' Next thing I know I was out of boot camp and headed to Washington, D.C."
His normal mission is to be a part of the honor guard for Navy funerals at Arlington National Cemetery. Today's parade will be on a much larger stage, but Sierra said he's ready.
"My uniform's looking pretty good right now, and I just got a haircut," he said, laughing.
Sierra's parents, Michael and Lois, live in Lawrence.
Copyright 2018 The Lawrence Journal-World. All rights reserved. This material may not be published, broadcast, rewritten or redistributed. We strive to uphold our values for every story published.