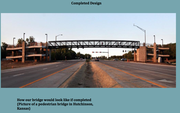 If all goes as Eudora officials hope, a pedestrian walkway over Kansas Highway 10 will connect the south and north parts of the city within two years.
"It's a huge deal," said John Harrenstein, city administrator, of the proposed project.
Eudora will submit a grant proposal next month to the Kansas Department of Transportation for the funds to build the $1.8 million bridge. Eudora, however, will be responsible for funding $470,000 of the project, which will most likely be financed using bond refunds and reserve funds, Harrenstein said.
The need for the bridge has been a hot topic in Eudora for years. Currently, those looking to cross K-10 must walk or bike on the gravel shoulder of Church Street. But that's a dangerous trek for pedestrians and presents a "huge gap in the quality of life in Eudora," Harrenstein said.
The proposed bridge would be built just west of the Church Street exit in Eudora, starting near Elm Street on the north, going over K-10, and connect near the Eudora Animal Hospital on the south.
Harrenstein said they should know by late summer whether they've been awarded the grant.
The public has the following opportunities to weigh in on the proposed bridge:
• 7 p.m. Jan. 24, Eudora Elementary School library
• 7 p.m. Jan. 31, Eudora City Hall
Copyright 2018 The Lawrence Journal-World. All rights reserved. This material may not be published, broadcast, rewritten or redistributed. We strive to uphold our values for every story published.