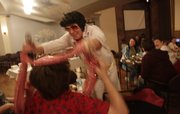 Camera equipment failure is unavoidable.
Gear wears out, gets dropped and breaks down. Fortunately, I don't recall an incident where a malfunctioning camera kept me from completing an assignment.
A big reason why is that I carry two camera bodies and lenses. But recently I had a close call.
I was covering an Elvis impersonator performing inside Liberty Hall, and to photograph in there I knew I would need to use a flash.
As Elvis moved among the tables, I took photographs using a camera-mounted flash with a diffuser and a wide-angle lens. I quickly noticed that my flash was malfunctioning. No matter how I adjusted my camera or flash settings, the flash was overpowering the subject. I was in big trouble.
It was too dark to photograph in the available light, I didn't have a second flash with me and the performance wasn't going to last long. Then I recalled that my second camera has a built-in flash. I'm not a fan of these flashes because they can't be diffused or bounced, and the resulting light is harsh. But at this point I was desperate.
I switched to the telephoto lens, to put some distance between the direct flash and the subject, and tightened my framing on Elvis and one crowd member. The technique worked well enough and I managed to capture one nice moment of interaction between a crowd member and Elvis.
Now I need to repair the flash.
At the Journal-World, our gear breaks down from time to time. I'm guessing most of you have also required camera repairs.
Camera repair businesses are not as easy to locate as they were in the days of film.
I did a Google search for camera repair shops in the area and found little information. I called Dereninger Camera Repair in Kansas City and was told they only service film cameras. In fact, an employee told me they didn't know of any camera repair places in the area that work on digital gear.
I contacted Wolfe's Camera in Topeka, and while they do not offer in-house repair, they will send your gear to an appropriate repair center. But in that case you might as well go straight to the source yourself.
We've had many years of good service with Bernie Barge of Pho-Tech in Hesston. Bernie works on both film and digital cameras and we currently send him all our Canon DSLR digital bodies, lenses and flashes for repairs. It's nice know your camera is getting shipped only three hours away and into the hands of a fellow Kansan.
Bernie can provide estimates once he surveys a camera or you can email him information about a problem and he will tell you if it's worth repairing. If it needs major work that he can't provide, he can forward it to authorized service centers. For more information, check out his website, www.pho-tech.net.
Copyright 2018 The Lawrence Journal-World. All rights reserved. This material may not be published, broadcast, rewritten or redistributed. We strive to uphold our values for every story published.