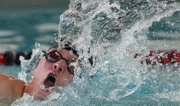 Just before the 200 freestyle relay Thursday, Lawrence High senior swimmers Nathan Evers, Patrick Bennett, Tyler Bradfield and Adam Edmonds gathered themselves behind the blocks to psych each other up.
With their caps and goggles on, the four woke their bodies up by smacking their own chests and arms.
"This was the first time that all four of us had been on the same relay," Edmonds said, "so we knew it was going to be a big moment."
It ended up being just that. The relay team posted a state consideration time, placing second with a season-best mark of 1:40.23.
The improvement was one of the biggest highlights for the Lions, who finished second of seven teams at the Lawrence Invitational — their first and only home meet of the year.
"You're just pumped up the whole day," said Edmonds, one of seven seniors. "As soon as I entered the pool and saw all the banners up and all the people here, I knew I was going to give my all."
Edmonds swam a 23.50 split as the anchor for the 200 free, looking up immediately to the clock after he finished. He raised his fist into the air once he realized the team's time was more than 11⁄2 seconds better than that needed for state consideration.
"All together, we just knew it was going to happen," Edmonds said. "It just felt right."
With only 32 6A schools and 24 spots open at State, the consideration time most likely will be good enough to advance the Lions' relay to the 6A championship.
LHS coach Kent McDonald said what was most encouraging was the team's strong time at Knox Natatorium, which has the reputation of being slow because the water is warm and the lanes not very deep.
"I think they see that they can drop more," McDonald said, "and that's the main thing is to have hope."
Evers, a co-captain along with Edmonds, finished second in the 100 butterfly with a time of 1:01.23, while junior Tim Schraad was right behind him in third (1:02.36).
McDonald also was impressed with freshman Izaiah Bowie, who finished third in diving with 170 points.
Lawrence's other top-three individual showings came from junior Caleb Axlund in the 100 backstroke (second) and Edmonds in the 100 free (third).
The Lions' 446 points were second behind Washburn Rural (612) and 80 points better than third-place Topeka Seaman.
"Washburn's a really good team. They're hard to beat," Evers said. "They're stacked, and they have a whole lot of swimmers. This year, we didn't have as many swimmers as we'd like, but we did what we could. I think we did pretty good today."
Copyright 2018 The Lawrence Journal-World. All rights reserved. This material may not be published, broadcast, rewritten or redistributed. We strive to uphold our values for every story published.