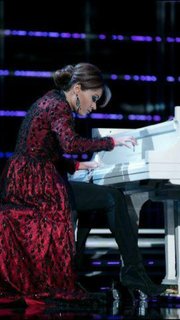 Sloane Lewis didn't plan to delay her graduation from Kansas University. But the 22-year-old senior-to-be had other things to do over the past few months.
Like compete for the title of Miss America.
Lewis was crowned Miss Kansas last June, putting her final year at KU on hold while she fulfilled the duties of her state title and prepared for the national competition, which was held in Las Vegas last weekend.
"As soon as you win you're handed these responsibilities, but the biggest is to prepare for Miss America," she said.
Lewis began her summer with a Miss America photo shoot, and filled out paperwork to send in for the pageant. She worked on her platform of empowering at-risk youth and spoke at schools, juvenile detention centers and to foster children. She practiced the piano for two hours every day for the talent portion of the competition, and worked out to get in "swimsuit shape" for the Miss America pageant.
Even after Lewis arrived in Las Vegas for the pageant on Jan. 3, she wasn't done preparing. Days began with breakfast at 6:30 am and were spent rehearsing for the show and filming commercials. After dinner as a group, the 53 contestants would review the next day's schedule until 10 p.m. Lewis said many nights she didn't get to sleep before 11:30 p.m. because she had to prepare for the next day's events.
Preliminary competition began with interviews with the panel of judges on Jan. 7, and the following days included the women's onstage question and the evening gown and swimsuit portions of the competition.
Unfortunately, Lewis didn't make the group of 15 finalists in Saturday's televised pageant (Miss New York won). But she still values the experience, even being among the also-rans.
"It was heartbreaking, but at the same time it was still exciting," Lewis said. "It was fun to sit with all the other girls. It's not what we wanted to do, but you can't complain because we're still on stage."
Lewis called the Miss America pageant a once in a lifetime opportunity, and said she was inspired by the other women she competed against—and became friends with.
"Everyone has this idea about pageant girls," she said. "But sitting back there remind(ed) me why I started on this journey. It's because you meet so many great people … who are leaders."
Lewis will spend the spring continuing to speak at schools and working with at-risk youth. In June, she will pass the title of Miss Kansas on to another Miss America hopeful.
After that, Lewis plans move back to Lawrence for the fall semester—and go back to school to finish her bachelor's degree in political science at KU.
"It's kind of like coming back home," she said.
Copyright 2018 The Lawrence Journal-World. All rights reserved. This material may not be published, broadcast, rewritten or redistributed. We strive to uphold our values for every story published.