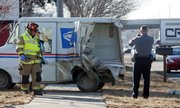 A van rear-ended a U.S. Postal Service truck on North Third Street about 10 a.m. Thursday, sending one person to the hospital.
According to police, the mail truck was stopped in the right lane delivering mail when the van struck the left rear side of the mail truck.
The van overturned, and the postal truck — which received significant damage — was forced up onto a curb near Slowride Roadhouse. The female driver of the postal truck, identified as Tracena Palma, 47, Tonganoxie, was taken to Lawrence Memorial Hospital, treated and released.
The driver of the van, Allan Stuber, 67, Lawrence, was treated and released at the scene. Police issued a citation to Stuber for inattentive driving.
Copyright 2018 The Lawrence Journal-World. All rights reserved. This material may not be published, broadcast, rewritten or redistributed. We strive to uphold our values for every story published.