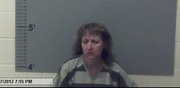 A woman accused of desecrating the body of a former Lawrence woman was ordered by an Oklahoma judge Wednesday to undergo a mental health evaluation, according to court records.
Shelly D. Maytubby, 52, of Eufaula, Okla., is charged with desecration of a human corpse after police discovered the body of her mother, Erlene McCune, 79, wrapped in a sheet in Maytubby's garage.
According to Oklahoma authorities, Maytubby signed McCune, who suffered from dementia, out of The Windsor assisted living facility in Lawrence on Sept. 12. In November, McCune's family contacted Oklahoma police, concerned about the woman's whereabouts.
Police questioned Maytubby, who told them her mother had run off with a truck driver named "Santa Claus." Police continued to investigate, finding McCune's body on Nov. 27. Police are waiting for the results of an autopsy to determine the cause of death, but they said there were no obvious signs of trauma to McCune's body.
Police said they also found $12,000 at Maytubby's home, which raised suspicions that Maytubby may have been financially exploiting her mother.
Maytubby faces up to seven years in prison if convicted.
According to the Tulsa World, Maytubby, who's being held in custody on a $50,000 bond, will be sent to the Oklahoma Forensic Center for an examination. A competency hearing in the case is scheduled for Feb. 20.
Copyright 2018 The Lawrence Journal-World. All rights reserved. This material may not be published, broadcast, rewritten or redistributed. We strive to uphold our values for every story published.