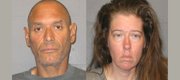 A 43-year-old Northlake, Ill., woman has received one year of probation for charges of child endangerment stemming from a June 13, 2012, incident in which two of her children were found bound by their hands and feet in a Lawrence Walmart parking lot.
Deborah Gomez was sentenced Wednesday by District Court Judge Paula Martin after pleading no contest on Dec. 14 to three misdemeanor counts of child endangerment. At the time, she agreed to testify in the trial of her husband, Aldolfo Gomez, 52, which prosecutors said led to his no contest plea in the case one week later.
Adolfo Gomez pleaded no contest on Dec. 21 to two counts of felony child abuse and three misdemeanor counts of child endangerment.

Deborah Gomez had originally been charged with the same crimes as her husband. Those charges were dismissed as part of her plea agreement with prosecutors, who also recommended the sentence of one year of probation.
In Wednesday's hearing, Deborah Gomez said she hopes to work toward regaining custody of her five children, ages 5, 7, 12, 13 and 15. Those children remain in protective custody, prosecutors said, and their future custody is the subject of a separate court case. Deborah Gomez said she plans, if she gets permission from probation officials, to move to Arizona to be near relatives.
Arizona is where the Gomez family was going, according to testimony at prior hearings, when Adolfo and Deborah were arrested at the Lawrence Walmart.
The 5- and 7-year-old children were found bound outside the family's van, while the other children were inside the vehicle, unbound. Testimony at prior hearings indicates the family was in Lawrence on its way from Illinois to Arizona.
Angela Keck, Deborah Gomez's court-appointed attorney, said her client was an unwilling participant and was made to bind the hands of one of her children by Adolfo Gomez, who Keck described as "controlling and abusive." Keck said Adolfo Gomez, in a deteriorating mental state and fearing "demons," forced the family to move away from Illinois and bound the children in the Lawrence Walmart parking lot, where the vehicle had broken down.
Since then, Keck said, Deborah Gomez had been freed from the influence of her husband, agreed to testify in his trial, and has completed counseling programs in the Douglas County Jail. Keck has said Deborah Gomez decided to plead no contest and avoid trial because she did not want her children to have to testify.
Deborah Gomez said she now counts on the support of her family and hopes to get her children back.
"I love my children very much," she said.
Prosecutors said they were satisfied with the sentence and believed Adolfo Gomez was the "primary aggressor" in this case.
Aldolfo, who is in jail on a $50,000 bond, has previously testified that he and his children were fearful of demon possession. He is scheduled for sentencing Feb. 8.
Copyright 2018 The Lawrence Journal-World. All rights reserved. This material may not be published, broadcast, rewritten or redistributed. We strive to uphold our values for every story published.