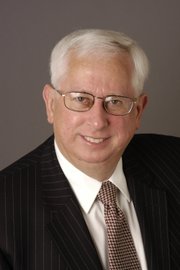 Looking for a way to give back to Kansas University, David Pittaway settled on supporting a program with five national championships and 14 Final Four appearances — but maybe not the team you're thinking of.
Pittaway, a 1972 KU graduate, has made a $500,000 gift to the KU debate team, KU Endowment announced on Wednesday. It will create an endowed professorship for the team's head coach.
Pittaway is a former member of the KU debate squad, which over its history has been just as much a national power as that other program with the same number of championships and Final Four appearances.
"What KU is to men's basketball, KU also is to debate," Pittaway said in a phone interview Wednesday.
Pittaway and his wife, Jeannine, split time between Rochester, Mich., and Naples, Fla. He is a senior managing director of a private equity investment firm, Castle Harlan.
He often finds himself negotiating deals to buy or sell companies, he said, and the skills he learned as a debater at KU and Shawnee Mission South High School have proved invaluable.
"The process of debating, where you have to alternately argue both sides of the issue, means that you learn to appreciate and understand both sides," Pittaway said.
Debate was Pittaway's entire life in high school, he said. He left the KU team after his freshman year, unable to commit the large amounts of time required because he'd decided to graduate in three years. He went on to learn a law degree and a Master of Business Administration at Harvard.
The KU team won one of its national titles during the year he competed. He said the debate coach then, Donn Parson, had a lot to do with the team's success, and with his gift Pittaway wanted to make sure that the team would continue to get strong coaching for years to come.
"My desire was that one of the things KU had in its hip pocket was the ability to make sure it got a great head coach to lead the program," Pittaway said.
Scott Harris, the KU debate team's current head coach, said the new fund would go a long way toward keeping KU at the top of the collegiate debate world. The team has historically been the top public university in debate circles, competing with deep-pocketed private institutions such as Harvard, Northwestern and Dartmouth at national contests.
"It's the kind of gift that's overwhelming and will do a great deal to secure the longterm viability of the debate program," Harris said.
Danny Anderson, dean of liberal arts and sciences, said the new fund could allow KU to expand its debate coaching staff, perhaps adding an assistant coach to provide more instruction.
"Coaching is central in terms of debate," Anderson said, even when a program brings in talented debaters as KU's does.
This is the largest gift in the history of the KU debate program, though Harris said alumni have raised about $1.1 million in total for the program over the past 10 years. The gifts have allowed the program to pay for travel to tournaments and provide scholarships to help with the recruitment of top-flight high school debaters.
"It's a program that helps attract quality students to the university," Harris said.
Anderson said the debate team, which most recently won a National Debate Tournament championship in 2009, is an "example of academic championship" at KU.
It's also something for KU alumni to brag about, just as much as the men's basketball team, Pittaway said. And with the help of his gift, he hopes it will stay that way.
Copyright 2018 The Lawrence Journal-World. All rights reserved. This material may not be published, broadcast, rewritten or redistributed. We strive to uphold our values for every story published.