A group of Kansas City-area comic book authors needed $18,500 to complete their dream project, a 200-page detective story of time-travel, Vikings and mysterious figures that manipulate the world by creating chaos.
They turned to Kickstarter, an online platform for financing creative projects through pledges from interested supporters. Between Dec. 10 and Jan. 10, the group raised $36,262, which is more than enough to print and distribute their book, plus offer extra items to those who contributed.
"It went above and beyond what we planned for," said Jeremy Haun, of Joplin, Mo., one of the book's four authors.
"The Ninth Life of Solomon Gunn," is billed as a graphic novel anthology that follows a detective following a trail through space-time and alternate universes, following a trail from Viking encampments on the North Sea to Victorian England and World War II.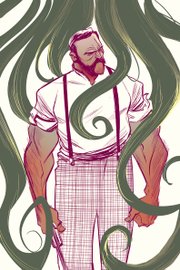 The anthology will be the first project for a local writer's collective called Bad Karma, which includes Haun, of Joplin, Mo., and authors B. Clay Moore, of Shawnee; Seth Peck, of Merriam; and Alex Grecian, of Topeka, author of New York Times best-seller "The Yard."
The authors found 615 financial supporters around the world by presenting their project online through Kickstarter. If they had fallen short of the $18,500 goal, they would have gotten nothing — that's how the Kickstarter rules work. But by outstripping their minimum goal, they were able to offer extras such as T-shirts and stickers, and added more artwork to the book.
Kickstarter projects vary wildly, from inventions like a new, super-compact wallet to do-it-yourself cheesemaking kits, to comic books. The nearly 4-year-old "crowdfunding" company has raised a total of $419 million for almost 33,000 projects; another 45,000 have been submitted but failed to raise enough money to launch.
For the team behind "The Ninth Life of Solomon Gunn," Kickstarter provides a mechanism to attract small pledges from potential customers who are bankrolling and purchasing the $30 book at the same time. Kickstarter often functions as a pre-ordering system but also offers extra incentives to these early customers. While Kickstarter supporters get the benefits of being customers, they aren't considered actual investors and don't get to share in any profits, except through these perks.
Some local comic book fans know the work of Haun and the Bad Karma writers. Grecian is author of the graphic novel "Proof," while Moore is perhaps best known for his Hawaiian Dick comic book series. Peck and Haun have worked on titles for Marvel Comics and DC Comics, including the X-Men, Wolverine and Arkham Asylum series.
Joe Noh, who works at Astrokitty Comics and More, 15 E. Seventh St., said he liked that Kickstarter allows those authors to finance original work outside the walls of the major comic book publishers.
"It's not something that was previously available," Noh said. "It's neat, anything that lets local, or greater Kansas City-area, creators do something."
The Bad Karma creators will officially release the book in June at the Heroes Con comics convention in Charlotte, N.C. To learn more, visit the group's website at badkarmacreative.com.
Copyright 2018 The Lawrence Journal-World. All rights reserved. This material may not be published, broadcast, rewritten or redistributed. We strive to uphold our values for every story published.