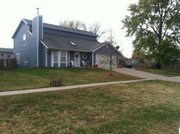 Douglas County prosecutors have filed numerous drug charges against the owner of a North Lawrence day care searched in October by police.
Tiffany C. Hubbard, who operated the Children's Playpen group day care home at 766 Lake St., faces seven drug charges, including drug distribution and using a communication device to assist in drug distribution.
Hubbard's day care was searched Oct. 24, and police said they discovered what they believed were drugs and drug paraphernalia at the day care, operated out of Hubbard's home
According to police reports, the home was searched on suspicion that the distribution of crack cocaine and marijuana was occurring on the property.
The day after the police search, state officials from the Kansas Department of Health and Environment issued an emergency order to close the day care, which received an annual license renewal Oct. 1.
Hubbard originally appealed the shutdown order, but failed to show to a hearing earlier this month, meaning the order will continue.
Hubbard has no arrest or conviction record in Kansas, according to a KBI records search.
State records show that a complaint about the day care was made in March 2010, but further information about the nature of that complaint was not available.
The most serious charge against Hubbard, possession with intent to distribute between 3.5 and 100 grams of opiates, is a level-3 drug felony, punishable by up to 51 months in prison, depending on someone's criminal history.
Hubbard's next court date is Feb. 21.
Copyright 2018 The Lawrence Journal-World. All rights reserved. This material may not be published, broadcast, rewritten or redistributed. We strive to uphold our values for every story published.