Photo Gallery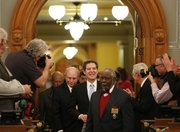 State of the State address
Images from Governor Sam Brownback's State of the State address on Tuesday at the Kansas statehouse.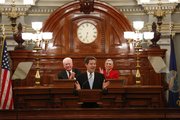 Policy proposals
Keep the current level of the state sales tax of 6.3 percent instead of allowing it to fall as required by law to 5.7 percent on July 1.
Reduce the top rate of the state income tax from 4.9 percent to 3 percent and the lowest rate of 3 percent to 1.9 percent.
Funding to educate 50 additional medical doctors and new state-of-the-art medical training building at Kansas University Medical Center.
Proposal to define in the Kansas Constitution what is a "suitable provision" for school funding.
Proposed constitutional amendment to make Kansas Supreme Court justices elected or named by governor subject to Senate confirmation.
$12 million to support innovative programs to help young struggling readers.
Requiring third-graders to show an ability to read before being promoted.
Merge the Kansas Turnpike Authority and Kansas Department of Transportation.
On the street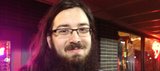 I'd say for me it's education. I know in past years there hasn't been an emphasis on education funding.
-->
Topeka — Despite dwindling revenues because of tax cuts, and a court order to increase school funding, Gov. Sam Brownback on Tuesday called for more income tax cuts, and changes in the way appellate judges are selected.
But to reduce state income taxes, Brownback wants to keep the state sales tax at 6.3 percent. Democrats said that constituted a tax increase because under current law, the state sales tax is set to fall to 5.7 percent on July 1.
In his State of the State address, Brownback, a Republican backed by large majorities in the House and Senate, said the keys to growing the economy are lower income taxes and reduced government spending.
Brownback also wants constitutional changes to give him more control over picking judges and told the Legislature to assert itself over the courts in school funding.
Democrats howled at the proposals.
"Gov. Brownback has brought us to the edge of our own fiscal cliff right here in Kansas," said Senate Minority Leader Anthony Hensley, D-Topeka. House Minority Leader Paul Davis, D-Lawrence, said Brownback was "treating the Kansas Constitution like a political pinata" because of his beef with the courts over school finance.
Taxing issues
Last year, Brownback signed into law cuts in the state income tax rates that also eliminated income taxes for 191,000 business owners.
Those cuts are causing revenue shortfalls, but Brownback on Tuesday proposed slicing income tax rates deeper with the endgame being the elimination of the state income tax altogether.
"Tonight we are here to take another step on our path to no state income tax," Brownback said. "This will create jobs and opportunities in our state that the current generation has left for Texas or Florida to find," he said, referring to states that have no state income tax. "Look out Texas, here comes Kansas," he said as Republicans gave him a standing ovation.
Under Brownback's plan, the bottom income tax rate would drop from 3 percent to 1.9 percent and the top rate would fall from 4.9 percent to 3.5 percent.
The previous round of tax cuts are already producing a revenue crunch. In the fiscal year that starts July 1, the state is projected to collect approximately $5.5 billion, which is about $700 million less than current spending.
Even so, Brownback vowed to protect funding to education and social services, which together make up the bulk of state spending. The details of his proposed budget will be released Thursday.
State Rep. Tom Sloan, R-Lawrence, was skeptical of Brownback's tax proposals.
"I grew up in politics believing that we had a three-legged revenue stool — income taxes, property taxes, sales taxes," Sloan said.
"So what we are doing is now saying we are going to have a two-legged stool, property taxes and sales taxes. I really don't know that that's a good way to fund the essential services that Kansans want — education, social safety net programs, public safety, and then investing in our future, whether that is preserving our water supplies, or maintaining a viable highway system," he said.
Judicial proposals
On the judicial front, Brownback called for either the election of Kansas Supreme Court justices, or giving the governor the power to pick justices with Senate confirmation. Currently, a nominating commission gives the governor three nominees to choose from when filling appellate court vacancies.
He also called on the Legislature to make it clear that they are in charge of public school funding, not the courts.
During this segment of his 30-minute speech, Supreme Court justices listened quietly while Republican legislators at times stood up to applaud Brownback's statements.
Last week, a panel of three state district court judges ruled the Legislature had shirked its constitutional responsibility to adequately fund schools, ordered a $440 million increase in funding, and criticized the state's position of cutting taxes while breaking previous funding commitments to education. The state has appealed the ruling to the Kansas Supreme Court.
Childhood poverty
In his speech, Brownback also said he wants to tackle childhood poverty. He proposed an initiative aimed at increasing the number of children who can read at grade level by the fourth grade.
Under his plan, third-graders who can't read "at a basic level" will not be promoted to fourth grade.
"Passing children up the grade ladder when we know they can't read is irresponsible — and is cruel," he said.
Davis called Brownback's words on childhood poverty "very empty" because the governor has signed into law the repeal of several tax credits that were designed to help low-income families.
In higher education, Brownback said his budget will provide funding to educate 50 additional physicians each year "at a new, state-of-the-art medical training building at the Kansas University Medical Center."
In response, state Sen. Marci Francisco, D-Lawrence, said, "I'm looking to see the budget for the universities of the state, but certainly a priority is medical training. The models have changed and we do need to be educating additional doctors. So that is good news."
And Brownback called for putting the Kansas Turnpike Authority under the Kansas Department of Transportation. Asked if that meant he was proposing the sale of the Kansas Turnpike, his office said no.
Copyright 2018 The Lawrence Journal-World. All rights reserved. This material may not be published, broadcast, rewritten or redistributed. We strive to uphold our values for every story published.