Delicious
I am not a tea drinker. I even gave up coffee four years ago and never looked back.
So when Sarah suggested using tea as this month's ingredient, I was perplexed. I love a challenge, so I wasn't about to back down from some simple tea leaves, but since I'm not a tea lover, I knew it would be a stretch for me to come up with something I wanted to make. I can't get myself to make a recipe that doesn't sound good to me, even if I know the rest of the world would probably love it.
And since I never developed a taste for tea, I knew this could be tricky. I mean, I don't even drink iced tea. I turn down Snapple. What in the world could I make?
But then I remembered ice cream. I have long heard tell of green tea ice cream, and even as a staunch member of the Tea Haters Club, I was interested. Never interested enough to risk ordering it in a restaurant, mind you, but this was different. I mean, I had to make something, and surely if it's ice cream, it can't be bad, even with tea as a primary ingredient.
So I stepped out of my comfort zone and whipped up some green tea ice cream, just feeling my way, and people, dang if it wasn't AWESOME. It almost makes me want to start just drinking green tea. Almost.
The taste is mild, a little musky, but also sweet and smooth like ice cream should be. This is a treat, to be sure, and while it was certainly different than traditional ice cream flavors, I even got my husband, Mr. Meat and Potatoes, to admit it was good.
Also, it was easy. Winning!
Green Tea Ice Cream
3 cups whipping cream
3 cups half and half
1/4 teaspoon salt
4 eggs
2 egg yolks
1 cup sugar
3 tablespoons matcha (green tea powder)
dash of green food coloring
Into a saucepan, pour the cream, half and half, and salt. Bring it to a low boil and then remove it from the heat. Whisk together the eggs, sugar and matcha. Add food coloring if desired.
Temper some of the warm cream mixture into the egg mixture. Just slowly drizzle in about 3/4 of a cup, whisking constantly, being careful not to go too fast and cook the eggs.
Then you can pour all of the egg mixture back into the cream mixture. Put it in the refrigerator to cool for up to overnight, but at least an hour and a half to be sure it's cool enough to freeze.
Freeze in ice cream maker.
Mine was just barely green, even with the tiny bit of green food coloring I added. If you want it to really look like green tea, add more, though I don't recommend using the green from the Tone's pack of food coloring you get at the grocery store. I used Juniper Green by Wilton for that soft, mossy "green tea" color.
I loved how this seemed a little fancy and would be great to serve at an Asian-themed dinner party, but was actually very easy to make with supermarket ingredients. (I got my matcha at Checker's.)
You could garnish it with a little wafer cookie, and I think it would be great with a drizzle of chocolate or even some berries. It's so mild it presents itself as a great backdrop for other flavors.
Also, you get the awesome health benefits of green tea, right? You won't even feel bad about the whipping cream and half and half.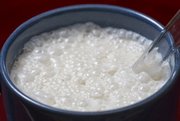 Nutritious
I love a good mug of tea every now and again. It's delicious, energizing and full of cancer-fighting substances (antioxidants for the win!).
Now, as for cooking with it? That's nothing I've ever really tried. I mean, I love tea with scones, but I've never tried to put it in scones … or anything else. So, the idea of cooking with tea was quite the challenge for me.
Of course, I first thought about trying to infuse tea into my scone recipe because that seemed logical, but the liquid ratio just wouldn't work. Then, I decided I might create a stir-fry with green tea, but the bitterness was a bit much. And because Megan had already called green tea ice cream, I knew I couldn't do the same.
Thus, I decided to try for a menu companion to Megan's yummy ice cream. I went with another creamy treat perfect for an infusion of tea: a milkshake.
Of course, being the "nutritious" one, I couldn't do a traditional milkshake (never mind the fact that I don't do dairy to begin with). So I decided to play the flavor of chai off some creamy coconut milk.
The result is delicious. This milkshake is great for dessert, but I also really like it for a pick-me-up after a night with too little sleep. Yes, it's basically a homemade, frosty, delicious chai tea latte.
Chai Coconut Milkshake
1 chai tea bag
1 cup hot water
1 can (403 ml) light coconut milk
2 large medjool dates or 1 teaspoon maple syrup
Stevia to taste (optional)
Open up the can of coconut milk, stir well and pour into a lidded, plastic container. Cover and put in the freezer for a few hours. Once your coconut milk is mostly frozen, take it out of the freezer. Immediately begin to steep the tea bag in boiling water.
Once the tea has cooled enough and the coconut milk is to the point where you can scoop it, combine the coconut milk, tea and sweetener of your choice in a blender. Blend until smooth. Add stevia to taste if using.
Serves 2.
Copyright 2018 The Lawrence Journal-World. All rights reserved. This material may not be published, broadcast, rewritten or redistributed. We strive to uphold our values for every story published.