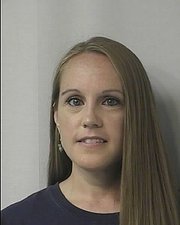 The Kansas Department of Corrections is revoking the parole of a former Kansas inmate — who killed three people in a drunken driving accident in 2005 — after she was arrested in Oklahoma on suspicion of driving under the influence.
Jeremy Barclay, KDOC spokesman, said his agency issued an arrest warrant for Jennifer Lyn Adams, 36, following news that Adams was arrested in October in Bixby, Okla., on charges of DUI, drug possession, driving left of center and transporting an open container.
Adams spent six years in a Kansas prison after pleading guilty in Sherman County to three counts of involuntary manslaughter. Adams was drunk when she was involved in an accident on Interstate 70 that killed three Goodland women.
Adams was paroled from prison in July 2011 but moved to Oklahoma, where her parole case was transferred.
The Oklahoma misdemeanor DUI charge had been dropped, but only so prosecutors can refile felony DUI charges against Adams, said Adam Scharn, an assistant district attorney for Tulsa County. Scharn said they learned of Adams' past DUI history only after charging her.
But Barclay said Adams is in violation of her parole terms, which prohibit her from drinking alcohol. The violation allows the KDOC to issue a warrant and send Adams back to prison, he said.
Adams was arrested last week in Oklahoma on the warrant and will be transported back to Kansas, Barclay said.
Though Adams was prohibited from drinking alcohol, an Oklahoma Department of Corrections spokesman said that Adams had not been placed on any type of alcohol-monitoring device.
It's not yet clear whether Adams had a valid Oklahoma driver's license.
Copyright 2018 The Lawrence Journal-World. All rights reserved. This material may not be published, broadcast, rewritten or redistributed. We strive to uphold our values for every story published.