Photo Gallery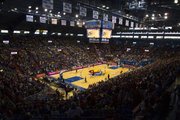 Kansas Women's Basketball vs. Baylor
Related document

KU-Baylor women's box score ( .PDF )
Kansas University's women's basketball team dropped its sixth straight game to Baylor, 82-60, on Sunday at Allen Fieldhouse, but played better than it had in the five previous meetings.
Unfortunately for the Jayhawks, who dropped their second conference game in a row, better still was not good enough, and the Bears cruised to a rather easy but wildly entertaining victory in front of a mixed-allegiance crowd of 6,923.
"First of all, the attendance was outstanding. Did they give tickets away?" asked Baylor coach Kim Mulkey, who was informed by KU officials that 600 tickets were freebies. "Well, keep giving them away because it helps our conference. When you have 4,500 more in here than you normally do, it's great for women's basketball."
Baylor's Brittney Griner, of course, was the reason for the big turnout, and she did not disappoint. College basketball's reigning player of the year scored 33 points on 14-of-24 shooting and played all 40 minutes while scoring 20 in the first half to pace the Bears to a 46-30 halftime lead.
"She's worked part-time the last couple of times she played here," KU coach Bonnie Henrickson said. "So it was nice to make her put a full day's work in."
Mulkey, who said she did not recruit players to watch them sit on the bench, added that she felt no reason to take Griner out because, "She was pretty much dominating the game."
Although Griner's presence on both ends of the floor made life tough for KU, the Jayhawks fared much better attacking her than they did guarding her.
CeCe Harper set the tone for KU with a career-high 21 points, and her aggressive play, both shooting the basketball and driving it to the rim, paid off big-time for the Jayhawks.
"I thought she was aggressive," Henrickson said of Harper, KU's first player off the bench. "I thought she played confident. And that becomes contagious."
Of all of Harper's buckets — the junior guard hit seven of 14 shots, including three of six from three-point range — a second-half drive-and-finish over Griner was the highlight.
"I thought CeCe played awesome," said senior forward Carolyn Davis, who added 12 points and 10 rebounds. "She's one of the X-factors. She comes off the bench and does little things. She can score, she can shoot it, she's a great penetrator, and she's strong, and she can finish."
Davis said she had never seen Harper show fear.
"I was just trying to be aggressive because I knew that we needed that to stay in the game," Harper said. "The mind-set in the second half was to attack Brittney and try to get fouls on her. (On that drive) I knew I had to alter my shot, so I went left-handed. I knew it was gonna go in once I shot it."
As for KU's defense, Griner commanded plenty of attention from the Jayhawks, who kept two, sometimes three, players within arm's length of the All-American on nearly every possession. At times, however, it looked as if KU's defenders were content just to be in the right spot and forgot to work when Griner got the ball.
"We kept challenging them to be more physical earlier with her," Henrickson said. "We kind of let her walk to where she wanted to be."
After falling behind 31-13, the Jayhawks ripped off a 15-7 run capped by a sweet dish from Angel Goodrich (16 points, seven assists) to Harper, whose easy layup cut Baylor's lead to 10 and forced Mulkey to call a timeout.
The feel-good moment was short-lived, though, as Odyssey Sims responded with back-to-back buckets, and Baylor led by 16 at the break.
The Bears scored the first nine points of the second half — during a four-minute stretch in which Kansas took just two shots — and the lead quickly ballooned to 24.
"We said before we went out, 'This is where they're gonna try to punch you in the mouth,' and they did," Henrickson said of Baylor's second-half run.
The Jayhawks kept the deficit in the 17-to-20-point range throughout the second half but never threatened Baylor's lead.
"Compared to the other match-ups, I thought we did way better," Davis said. "We talked in the locker room about if we could've just cut out a few of the mistakes that were our fault, we were right in the game."
Added Henrickson: "I'm really proud of our effort. There are days where you might lose the game but gain some things that might help us be successful down the road."
Sophomore forward Chelsea Gardner (four points, nine rebounds) started her first game of the season, in place of junior Tania Jackson, whom Henrickson said decided to leave the program last Friday.
Copyright 2018 The Lawrence Journal-World. All rights reserved. This material may not be published, broadcast, rewritten or redistributed. We strive to uphold our values for every story published.