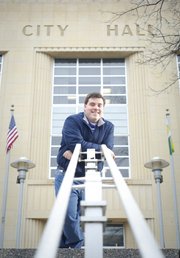 -->
Matt Bevens is aiming to graduate early from Kansas University, expecting to finish this summer. He's also a member of the KU debate team, coaches high school debaters in Topeka, runs a Realtor-assistance business with his dad and plays with the KU racquetball club team when he can.
Oh, and for the spring semester, the KU junior is going to toss another extracurricular activity on top of that pile: a city council campaign.
Bevens, 21, filed recently to run for a council seat in Topeka, where he lives.
He says his jammed-full schedule, along with a 30-minute daily commute to Lawrence for classes, doesn't worry him. He just tries to "get as much out of life per minute as you possibly can," he said.
"Amazingly, there's still time for a social life and plenty of sleep," Bevens said.
An economics major, he said he plans to graduate at the end of summer this year. It's his third year of college, and he took one semester off to travel to Guatemala. He entered George Washington University in Washington, D.C., with credits from Advanced Placement courses in high school, and he's taken heavy course loads since transferring to KU a year later.
Bevens lived in Lawrence, just off the KU campus, during the 2011-12 year. But this year he moved back to Topeka, where he'd lived all his life before college. He was already driving there everyday, working for the business he runs with his father. They help Realtors prepare houses to show to potential buyers or renters.
Ron Caldwell, an assistant professor of economics at KU, has taught Bevens in two classes. Bevens spoke up enough in class to catch his eye, Caldwell said, and he was thinking of asking him to serve as a teaching assistant until he found out about his campaign plans.
"Evidently he's going to be busy," Caldwell said.
Bevens has been one of a few students to stand out among the 1,000 or so who've passed through Caldwell's classes, he said. He's been eager to participate in class, Caldwell said, but never been dragged into contentious political arguments.
"He's not shy," Caldwell said.
Growing up, Bevens was an Eagle Scout and earned a black belt in karate. He said he's wanted to run for some sort of office since he was 12.
Bevens says he knows many college students barely pay attention to local politics or even vote in local races, though he doesn't blame them: Many view their college town as a temporary stop.
But while volunteering for community organizations during high school, he said he developed a passion for local matters.
"What impacts the daily lives of people is what happens with local government, local organizations and what's going on here in our city," Bevens said.
Also during high school, he began taking part in competitive debate. He still debates at KU, practicing for 10 to 20 hours per week. Debate has helped train him to think on his feet and communicate his thoughts, he said.
"It does take a lot of time, but it's definitely worth it," Bevens said.
He said he doesn't fret about the fact that his college experience hasn't been typical.
"I've never been a big fan of big parties," Bevens said.
The councilwoman who currently holds the seat Bevens is seeking, Karen Hiller, had not filed for re-election as of Friday afternoon. The filing deadline is Jan. 22.
The City Council election will be April 2, and Bevens expects a primary election Feb. 26.
He said he hopes that, even if he doesn't win, he'll spur some good community discussion about reducing crime and repairing crumbling infrastructure.
Caldwell, the economics professor, said he wouldn't worry about Bevens' youth if he were a Topeka voter. He's proved to be bright, open-minded and a good communicator, he said.
"It's hard for me to imagine a student that would do a better job at this," Caldwell said.
Bevens said that after he graduates this summer, he plans to spend about two years saving up some money. He and his father, who works in the public works department for the city of Topeka, have run their business together for two years now. When he saves enough, he hopes to join a combined law degree and Master of Business Administration program at Washburn University.
He's not sure if he'll have more political aspirations in the future. And he doesn't worry about having enough time to campaign. After all, he said, other candidates likely have full-time jobs and families with children.
For him, the campaign is another activity marked down on his schedule — albeit one he's been thinking about since he was a preteen.
Copyright 2018 The Lawrence Journal-World. All rights reserved. This material may not be published, broadcast, rewritten or redistributed. We strive to uphold our values for every story published.