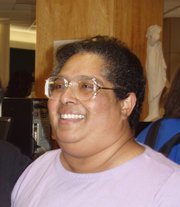 When Debra Green was buried earlier this month in a small country cemetery southeast of Lawrence, a big part of the history of Lawrence High School, and all of Douglas County, was buried with her.
Debra Ann Harvey Hicks Green, a graduate of Lawrence High School who later taught math there for 31 years, died Dec. 26, 2012. She was 61.
"Her life could be a book," said Jack Hood, a social studies teacher at Lawrence High. "She and her family have been so important to the history of Lawrence, and I think Kansas University athletics back in the day. She influenced so many people as a teacher and a community leader. She bridged gaps between the different communities of Lawrence."
Green was buried Jan. 3 at Vinland Cemetery, alongside at least six generations of her family. The cemetery sits not far from the Harvey family homestead where her great-grandmother Rebecca Brooks Harvey, a former slave, settled in 1863 after being freed from a plantation in Arkansas during the Civil War.
"She got up here with four children that I know of, and she buried some on the way," said Green's mother, Dorothy Harvey. "And she was pregnant with a child. But she got here and she worked with Sheriff Stephen Ogden and started homesteading. She was able to secure quite a bit of this property."
According to family records at the Douglas County Historical Society, Rebecca Brooks Harvey was born a slave in North Carolina. Nobody knows exactly when or where. Around the age of 5, she was sold as chattel to a man who eventually brought her to Van Buren, Ark., where she grew up. There, she met her future husband, David Harvey, a teamster on the plantation. They were separated when he joined the Union Army, which took him to St. Louis and, eventually, Fort Leavenworth.
Rebecca Brooks was freed from slavery during a Union Army raid of Van Buren in December 1862. She and scores of other former slaves were brought to Kansas and arrived in Douglas County on Jan. 26, 1863 - 150 years ago this month - just a few weeks after President Abraham Lincoln signed the Emancipation Proclamation.
it wasn't long before word of her move reached David Harvey at Fort Leavenworth. He quickly came down to Lawrence where, as Dorothy Harvey puts it, they were "legally" married, because marriages between slaves were not recognized at that time.
They worked as sharecroppers on the land of then-Sheriff Stephen Ogden, and by 1893 had managed to acquire 100 acres of their own. They raised three sons on the farm, all of whom later attended Kansas University: Frederick Douglas Grant Harvey, who became a doctor; Sherman Alan Harvey, who became a lawyer; and Edward S. Harvey, Debra's grandfather a businessman who was also the first black player on the Kansas University football team.
High school and civil unrest
Debra (Harvey) Green was born in 1951, grew up in Lawrence and attended Lawrence High during the turbulent era of the late 1960s.
Racial tensions in America were running high following the assassination of Dr. Martin Luther King, Jr., in 1968, and Lawrence was not immune to those troubles. From 1968 through 1970, students at LHS demonstrated, organized petitions, and even engaged in walk-outs and sit-ins at the school to protest discriminatory treatment of black students.
Records from that time show the students protested what they perceived as unfair and unequal treatment of black students. There were no black students on the LHS cheering squad, for example, and no school-recognized clubs or organizations for black students. They also protested what they called an "inadequate curriculum," including the absence of any African-American history studies.
"And it was true, too," recalled longtime Lawrence High librarian Martha Oldham, who was just starting her career at the time. "But her father (Dean Harvey, 1922 - 1999) would not allow her to walk out. He said, 'You can honor everything that they're fighting for, and they're all legitimate reasons, but you can do it another way besides walking out.' He wanted to impress upon her how important an education was.
"That was her father."
Teaching career
After graduating LHS in 1969, she attended KU where she earned a bachelor's degree in education in 1973. A few years later, Green returned to her alma mater as a math teacher.
Ray Wilbur, who headed the LHS math department from 1964 to 1995 and knew Green as both a student and colleague, remembered Green a teacher who often asked to take on the most difficult students and assignments.
"And she never shied away from them," he said. "She would take some of the more difficult classes and did a great job with them. She also took some of the more advanced classes, Algebra II classes. But she did take difficult students, did a great job with them, encouraged them and helped them get through their math requirements."
Green taught at Lawrence High from 1976 until her retirement in 2007. Along the way, she earned her master's degree at KU in 1999. And she spent 11 years sponsoring cheerleading squads, the same squads she couldn't have joined during her own years in high school.
"Debra Green was a professional teacher in the highest regard, LHS librarian Oldham said. "She had high standards, but if you had a problem she always had time to talk. Debra touched lives in a positive nature."
To honor her memory, Lawrence High officials are establishing a memorial scholarship fund. The scholarship will be awarded to one student per year with financial need who has experienced a personal or family crisis, overcome it and decided to make themselves eligible to attend a four-year college, junior college or vocational school.
Donations can be made through the Lawrence School Foundation, 110 McDonald Drive, Lawrence 66044.
Copyright 2018 The Lawrence Journal-World. All rights reserved. This material may not be published, broadcast, rewritten or redistributed. We strive to uphold our values for every story published.