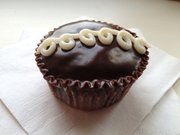 So what if another company never takes over production of now-defunct Hostess Brands' iconic chocolate CupCakes, the ones with the mysterious cream filling and white curlicues on top? Meh. Downtown Lawrence has the same thing, only better. The Retro is a moist, dark chocolate cupcake filled with vanilla cream and topped with glossy chocolate ganache — and white squiggles.
Unlike its prepackaged, semi-crusty, convenience store counterpart, The Retro's frosting actually smears if you stick your finger in it.
Where to get it: Billy Vanilly, 914 Massachusetts St.
What you'll pay: $2.50 apiece for a regular-sized cupcake (they call them baby cakes, as opposed to preemies — tiny size — or big kid cakes — overgrown toddler size, more or less).
Try it with: Milk. There is no disputing this.
Also on the menu: A few cakepops, but mainly cupcakes, lots of cupcakes. I Love Lemon, 24 Carrot, Death by Chocolate and ever-changing specialty flavors of the month are just a few. The store's namesake Billy Vanilly cupcake is vanilla cake and vanilla buttercream topped with sprinkles and a cherry on top — just like the picture on the logo.
Copyright 2018 The Lawrence Journal-World. All rights reserved. This material may not be published, broadcast, rewritten or redistributed. We strive to uphold our values for every story published.