Fire destroyed a barn southeast of Clinton Lake, on the west side of U.S. Highway 59, about 9:15 a.m. Thursday morning. The two-story barn, located in the 1300 block of North 924 Road, was fully engulfed in flames when firefighters from the Wakarusa Township Fire Department arrived.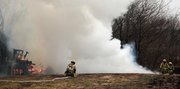 The fire was extinguished and fire crews were clearing the area by 10:40 a.m.
Copyright 2018 The Lawrence Journal-World. All rights reserved. This material may not be published, broadcast, rewritten or redistributed. We strive to uphold our values for every story published.