Girls
Topeka Heritage 32, Veritas 22
Eudora — Topeka Heritage outscored Veritas Christian by 10 points in the fourth quarter Saturday.
Photo Gallery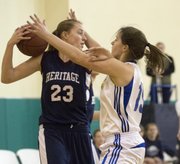 Veritas girls basketball vs. Topeka Heritage
The game was tied 19-all after three quarters, but Heritage outscored Veritas 13-3 in the fourth.
Naomi Hickman led Veritas with 12 points.
"It was a tough shooting night for us," Veritas coach Kevin Shelton said. "We came out in the third quarter and pressured them. In the fourth quarter, we had a few turnovers and didn't guard a couple girls we'd been guarding all day. We just didn't finish the game. We were a little disappointed in our fourth quarter."
Veritas (5-3) will play Wentworth Military at 5 p.m. Monday in the Braymer Invitational in Braymer, Mo.
Boys
Veritas 41, Topeka Heritage 29
Eudora — Veritas defeated Topeka Heritage, 41-29, Saturday in Eudora. Andrew Currier led Veritas with 13 points, followed by Chad Steiben with nine points and Bryce Boland with eight.
Photo Gallery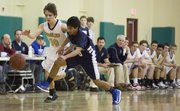 Veritas boys basketball vs. Topeka Heritage
Boland played increased minutes because Thomas Bachert was ill during the week.
"Thomas was under the weather, and Bryce came in and scored eight points off the bench and was a really big part of our win because he gave Thomas a lot of spells," said coach Gary Hammer.
"We broke the game open in the third quarter, 13-3, and our defense was really good, and that pretty much won the game right there," said Hammer.
Veritas (7-1) plays against Wentworth Military at 6:30 p.m. on Monday in Braymer, Mo.
Copyright 2018 The Lawrence Journal-World. All rights reserved. This material may not be published, broadcast, rewritten or redistributed. We strive to uphold our values for every story published.