These days, Celeste Neubauer of Olathe describes her life as a balancing act.
She's married with two children, 12 and 15 years old. She also works full time as a paraprofessional in the Olathe school district.
On top of all that, she's carrying a full load of night classes at Johnson County Community College.
"It's extremely busy, but with my husband's support and the kids being a little older, it's helped," said Neubauer, 42. "It's allowed me to stay in school full time."
Neubauer said over the years she had taken some college classes "here and there," and had always planned to eventually get a college degree. But she didn't start putting that plan into action until 2009.
"My kids were getting older, and I knew that I was going to need something to do," she said of why she enrolled in the 2+2 program at JCCC.
The program, in a partnership with Emporia State University, allows students to earn a bachelor's degree in elementary education through ESU while attending classes on the JCCC campus.
Now a junior, Neubauer said she enjoys going to class and doesn't mind being older than many of her classmates.
"I think it's up to each individual to connect with these kids," she said, adding that, actually, it's not so uncommon anymore "for the young kids to go to school with the older students."
Neubauer's goals are to become a kindergarten teacher, and maybe even to earn a master's degree. And she has a different perspective on college now than she did when she was younger. After all, she said, she's got more on the line.
"This is my livelihood," she said. "It's my kids' livelihood. It's my future."
There's also the matter of one day being able to pay off her education, all of which has been financed with student loans, Neubauer said. Beginning next fall, she's got a year of student teaching, as well, where she won't be able to work more than part time. 
It's "a major financial stress," Neubauer said. "Because the education system is so unstable, and it's almost frozen, and if you don't have your foot in the door somewhere in some districts, they're not going to look at you to hire you."
Ultimately, though, all the stress of attending college is worth it, Neubauer said. She's even got some advice to share with other adults with families who may be interested in pursuing college but are hesitant to take the leap.
"Start it. Just start it," she said. "You gotta jump in somewhere. Start something, and go slow if you need to. But definitely do it." 
Education online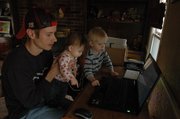 Also taking classes through JCCC, but via a different route, is Brian Bolen of Shawnee. The husband and stay-at-home father of two toddlers is earning his degree online.
"It's a situation where, in this metro area, you cannot get a job without a four-year degree," Bolen, 32, said.
After graduating high school in 1999, Bolen took a semester of college at Emporia State University. But he dropped out, he said, because he was also working full time as a customer service manager and information technology analyst at a phone company in Emporia, where he originally is from. 
"I had a career, or what I thought was my career, and so I didn't need that college degree," he recalled thinking at the time.
But in 2006, he got laid off, and he went through another layoff from Sprint in 2009. He's been a stay-at-home dad ever since, but in a few years his children will be heading off to school themselves and he's "ready to move back to a career."
In the competitive Kansas City market, that would take a college diploma, Bolen decided. He began taking online classes through JCCC last semester. He wants to do something with computers, but he's not sure yet what degree he'll choose, so right now he said he's focusing on getting some general education classes out of the way.
"Oh, it's great," he said of how school is going. "It's not a struggle so far."
Online classes offer him the flexibility he needs with two young children in tow. He said he gets some reading done while his son and daughter take their afternoon naps and then gets the bulk of the work done at night after his wife, Debbie, gets home from her job at Hallmark's corporate office in Kansas City, Mo. 
"It's the only way I can pull it off scheduling-wise," he said. "I'm not tied to a schedule, a daily time frame."
Bolen said he plans to earn his degree completely online, taking two years through JCCC and then earning a bachelor's degree through ESU. He'll be watching his kids at the same time, which he enjoys doing — though he admits to getting a little stir crazy from time to time.
"Especially in the winter; the winter's the worst. But that's another reason I decided to take classes," he said. "In the winter around the house, you just sit. So it's one of those deals where it's a better use of my time."
Copyright 2018 The Lawrence Journal-World. All rights reserved. This material may not be published, broadcast, rewritten or redistributed. We strive to uphold our values for every story published.