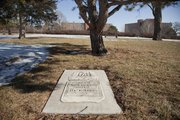 Much to the chagrin of many in my household, I already had found my Indiana Jones hat, and was in search of my Indiana Jones whip.
I thought I had made a major archeological discovery.
I was playing around with a relatively new piece of technology developed by the city of Lawrence. On the city's Web site — lawrenceks.org — there's a database that allows you to search the burial records of Lawrence's Oak Hill, Memorial Park and Maple Grove cemeteries. In addition to giving you a map of where the individual is buried, it also provides a date of burial.
While exploring it, one name jumped out at me like a Nazi chasing me in the Sahara. (Well, maybe that's just the Indiana Jones hat talking.) But still, there was the name of Carrie Pratt — buried on Dec. 28, 1832.
Step aside, Dr. Jones. You and your puny little ark just got trumped. 1832! That's 22 years before Kansas Territory was even opened for settlement.
The stories already were spinning in my mind. Had a white woman come to live among the Indians? Had she so inspired them that they gave her a traditional Christian burial? Had they learned how to carve granite, write white man's English and put up a tombstone in the spot that eventually would become Oak Hill Cemetery a mere 33 years later?
(OK, so maybe I didn't quite have it all figured out. But I bet Harrison Ford would still make a movie about it.)
When I went to investigate, though, the snap was soon taken out of my whip. According to the gravestone, Carrie Pratt was buried in December 1932. A typo in the database. And as any Journal-World copy editor can attest, Chad Lawhorn and typos are not a rare find.
But if not Carrie Pratt's, whose is the oldest known grave in Lawrence? Come to find out, it belongs to Moses. (Got really excited for a second, but no, it is not that Moses.)
Moses Pomeroy in the fall of 1854 caught an "Illinois fever." Local historian Karl Gridley says a letter from the time indicates that Pomeroy had noticed several folks in Illinois had a sickness as he was traveling through the state. By the time he landed in Lawrence, he had it too, and thus it was dubbed an "Illinois fever."
"But who knows," Gridley said. "Back then, you drank the water and you died."
And though the record doesn't indicate it, perhaps Pomeroy was confused. Maybe he had crossed into Missouri when he saw the sickness. As Lawrence residents soon would learn, if in doubt, blame a scourge from Missouri.
Regardless, by Oct. 5, 1854, Pomeroy was dead. A letter published in the Boston Recorder spread the news to Pomeroy's home state of Massachusetts. The author of the letter — whose name seems to have been lost to history — indicated it was his first "prairie Sabbath," and a "delightful" one at that, except for "one cloud that settled dark upon us; we had to open our first prairie grave."
They buried Pomeroy on a hill a few miles outside of the city. Eventually, the cemetery would be named Oread Cemetery.
"I think you wanted to have the cemetery far enough from town that it didn't cause health problems," Gridley said.
It ended up being far enough away that it didn't cause people any problems because most eventually forgot it was there. They certainly remembered it still in August 1863. After William Quantrill's raid on the city, long open trenches were dug there to accommodate mass burials of victims.
By 1865, many of those bodies had been removed to the city's new and more conveniently located Oak Hill Cemetery on the eastern edge of Lawrence. Gridley figures the decision to move many bodies to the new cemetery was simple enough.
"You don't want to have your loved ones in a trench with everyone else," he said.
By 1915, the editor of the Journal-World wrote a moving piece entitled "Beautiful Old Forgotten Cemetery." He took the time to list the names and burial dates on every tombstone he could find in the cemetery. He also noted the current maintenance program for the cemetery.
"A few years ago, N.A. Gwin was asked to turn his goats into the cemetery in order that they might clear it up," the article reads.
By 1928, the mayor of Lawrence ordered that the cemetery be cleaned up again and renamed Pioneer Cemetery.
So, the cemetery had a new name but apparently not much of a new fate. By 1953, Kansas University Chancellor Franklin Murphy rediscovered the poorly kept cemetery while on a walk. He arranged for the property to be donated to KU, and the university has been maintaining it ever since.
Today, the Kansas University Endowment Association maintains Pioneer Cemetery, which is just north and west of the intersection of 19th and Iowa streets. Departed faculty members and employees of the university who meet certain qualifications are still buried there.
"All indications are that it is in the best condition it has ever been in," Gridley said.
But don't go to the cemetery expecting to find Pomeroy. Look all you want — the cemetery is open to the public — but you won't find a tombstone for Pomeroy.
Back then the only place to get a marble or granite tombstone in Kansas was at Fort Leavenworth, where dying wasn't an uncommon thing. But it took some arranging to get such a stone.
Gridley suspects a simple wooden cross is all that marked Pomeroy's grave. It is hard to know why no one ever took the time to place a more lasting tombstone at the grave. Even today, it is tough to say why no one remembers Moses Pomeroy.
"I'm surprised that somebody, sometime hasn't come to find him and give him a gravestone," Gridley said. "Maybe that is something that should be done."
Not much is known about Moses Pomeroy, but that 1854 letter states his parents were still alive at the time of his death, as well as two sisters. Whether family ever came to visit him, isn't known. When anyone last visited Moses' grave is tough to know.

I went to Pioneer Cemetery recently. I knew I wouldn't find Moses. At this point, there are only guesses where he's even at in the cemetery. I wasn't sure what I would find. It was a day where the snow had recently settled, and I found a few solitary footsteps that had cut through it.
I made a few more, as I brushed snow away from a few busted and battered tombstones. What I found, I suppose, is a realization: So many have made a mark on this place we call home — even the ones who don't get a tombstone to record it.
— Each Sunday, Lawhorn's Lawrence focuses on the people, places or past of Lawrence and the surrounding area. If you have a story idea, send it to Chad at clawhorn@ljworld.com.
Copyright 2018 The Lawrence Journal-World. All rights reserved. This material may not be published, broadcast, rewritten or redistributed. We strive to uphold our values for every story published.