Olathe — The Free State boys lost a game, but they might have just found an identity.
After trailing by as many as 19 points in the second half, the Firebirds closed the deficit to three in the fourth quarter before eventually falling, 48-44, to No. 7 Olathe East on Friday night.
Photo Gallery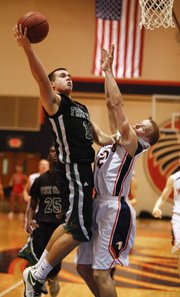 Free State boys basketball v. Olathe East
Images from Friday night's game against Olathe East.
"We had our backs against the wall. We were like, 'Why not pressure them?'" Free State junior guard Keith Loneker said. "We came out and pressured and made them make some bad decisions. We figured we probably should play like that the rest of the game."
East took a 36-17 lead with 6:15 left in the third quarter before Free State extended its man-to-man defense.
The transformation was immediate. The Firebirds ended the quarter on a 14-3 run, helped by a steal and a pair of assists from Loneker.
Free State also opened the fourth quarter with an 8-2 spurt, as two free throws by Loneker cut the lead to 42-39 with 2:26 left. In the game's final 14 minutes, East mustered just three field goals.
The Hawks also had 10 second-half turnovers.
"We picked up the intensity," FSHS junior forward Khadre Lane said. "We just need to figure out how to do that the whole game."
A jumper by Lane trimmed the East lead to 47-44 with 19.4 seconds left, but East's Bret Cook hit one of two free throws with 11.9 seconds remaining to help the Hawks hold on.
"I feel like we came together as a team tonight and found ourselves in that fourth quarter," Loneker said. "So we know what we're about, which will help us in the long run."
Free State was haunted by a slow start.
East opened up a 9-0 lead in the first 3 1/2 minutes, with the Firebirds missing their first seven shots.
FSHS coach Chuck Law was so frustrated that he subbed out his five starters with three minutes left in the first quarter and didn't let them back in until early in the second quarter.
"We weren't playing hard at all. We weren't playing any kind of defense. We weren't running any kind of offense," Lane said. "We were just willy-nilly whatever we did, trying to do our own thing."
The Firebirds also suffered from a poor shooting night, making just 17 of 57 field goals (29.8 percent), eight of 17 free throws (47.1 percent) and two of 12 threes (16.7 percent).
"I was happy with everybody who stepped foot on the court tonight," Law said. "We just missed too many easy shots. You're not going to come in here and beat the team that's picked to win the Sunflower League shooting below 30 percent from the field."
Lane led Free State (2-4) with nine points and 10 rebounds.
The Firebirds play on Tuesday at Shawnee Mission South.
Copyright 2018 The Lawrence Journal-World. All rights reserved. This material may not be published, broadcast, rewritten or redistributed. We strive to uphold our values for every story published.