An embarrassing series of emails between the Kansas University School of Education and an Indiana animal-lover last week actually originated with the dean of the school, and not with the associate dean who apologized last week.
It was Dean of Education Rick Ginsberg who first passed along, on Dec. 26, an email joke about recent animal cruelty allegations involving a rented turkey at a KU fraternity house, according to copies of the correspondence obtained by The Lawrence Journal-World.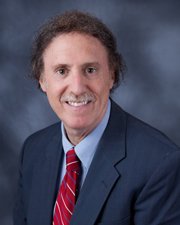 He kept his joke, which included a slang term for masturbation, within a circle of school administrators. But when Jim Lichtenberg, an associate dean, accidentally included Jennah Dibiase, of Terre Haute, Ind., on the email chain, it became a national news story.
Ginsberg said the fallout, including widespread criticism directed toward Lichtenberg, has been "awful."
"He's gotten death threats," Ginsberg said. "It's been very hard on a number of people."
Police responded Dec. 14 to reports that KU's Beta Theta Pi chapter had rented a turkey for an annual celebration and then abused it, chasing and injuring it before, according to police, someone killed the bird to "end its suffering." That story reached across the country within days, including to Terre Haute, Ind.
Dibiase, of Terre Haute, read those accounts and emailed the education deans in protest, choosing them specifically because their email addresses were some of the first she found on the university's website. She asked that the students involved be held responsible.
"What your students did is deplorable," Dibiase wrote. "They should be expelled from your school."
Ginsberg said he had been traveling abroad, was unfamiliar to the turkey abuse case, and was surprised and confused when he received Dibiase's email. The School of Education, he said in a phone interview Friday, had nothing to do with the fraternity or any disciplinary measures or a criminal investigation that could be directed against them.
The local chapter of the fraternity has been suspended "indefinitely" by its national organization.
"Why something like that came to me, I had no idea," Ginsberg said. "The incident is awful, and I think the university is handling it."
But only two minutes after receiving Dibiase's email, Ginsberg sent a copy of it, along with his joke, to associate dean Lichtenberg. Lichtenberg added his own joke, and accidentally copied Dibiase on the reply.
Lichtenberg tried in vain to recall the email, which the offended Dibiase turned over to The Kansas City Star. Other news media picked up the story.
Lichtenberg apologized to Dibiase and called his joke "stupid, unprofessional and embarrassing."
"That I would craft such an email was most certainly a significant lapse in judgment on my part," he wrote.
Both Ginsberg and Lichtenberg stressed that they did not intend to make light of the abuse of an animal.
Jill Jess, a university spokeswoman, said the university considers the reported treatment of the turkey reprehensible and expects anyone involved to cooperate fully with ongoing investigations.
"The disrespectful levity used in this email does not reflect the opinions or actions of the university on this issue," she wrote in a statement.
Sgt. Trent McKinley, a Lawrence Police Department spokesman, said an investigation of animal cruelty offenses is ongoing.
Copyright 2018 The Lawrence Journal-World. All rights reserved. This material may not be published, broadcast, rewritten or redistributed. We strive to uphold our values for every story published.