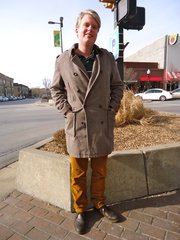 Age: 22
Relationship status: In a relationship
Hometown: Stockholm, Sweden
Time in Lawrence: Three months
Occupation: Student
Dream job: Financial analyst, hedge fund manager
What were you doing when scouted? Trying to find a place to eat
Describe your style: Scandinavian preppy
Fashion trends you love: Colored pants, foxes, animals
Fashion trends you hate: I don't hate anything.
Fashion influences: Colors, classic menswear
What would you like to see more of in Lawrence? Public transportation could be better.
Less of? Nothing
Tattoos or piercings? No
Who do people say you look like? Dennis the Menace, a prince
Tell us a secret … I scream like a girl.
Copyright 2018 The Lawrence Journal-World. All rights reserved. This material may not be published, broadcast, rewritten or redistributed. We strive to uphold our values for every story published.