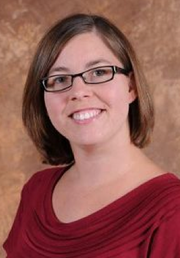 Lawrence school board President Vanessa Sanburn has filed for re-election.
Sanburn said in an email Thursday evening that she filed paperwork with the Douglas County Clerk's office to seek a second term on the school board.
"In the last nearly four years that I've served on the school board, I've learned so much and gained a great deal of insight regarding the strengths of our district and the challenges we face," Sanburn stated. "I'm proud of the progress our district has made on several important fronts, especially our work around lowering the achievement and graduation gaps for poor and minority students while increasing achievement for all of our district's students. I'm committed to continuing this work, and helping members of the community understand how our bond proposal supports the district goals that will make continued excellence possible."
Sanburn's seat is one of three that will be up for election in the April 2 general election. The others are currently held by Bob Byers, who filed for re-election earlier, and Mark Bradford. Bradford has not made an official announcement but has indicated he is not inclined to running for a second term.
The school board consists of seven seats, all of which are elected at-large. So far, no other candidates have announced plans to run in the upcoming election. The deadline for candidates to file for the race is noon Tuesday, Jan. 22.
Copyright 2018 The Lawrence Journal-World. All rights reserved. This material may not be published, broadcast, rewritten or redistributed. We strive to uphold our values for every story published.