Topeka — A Lawrence man will be promoted to brigadier general in the Kansas National Guard.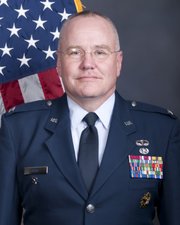 Col. Scott Dold, 51, who is chief of staff of the Kansas National Guard, will take his new position during a 2 p.m. ceremony on Saturday at the Nickell Armory in Topeka.
Dold joined the Marines in 1983, serving as as a tank platoon commander, adjutant, headquarters company commander and logistic officer in a variety of locations, including Korea, Japan, Thailand and the Philippines.
He earned a degree in political science and history at Kansas University and in 1990 receive a law degree at KU. He then joined the Air Force and served as a judge advocate.
In 1994, Dold joined the Kansas Air National Guard and has been deployed in military and peacekeeping operations in Iraq, Bosnia, and Kosovo
During his time in the Kansas National Guard, Dold has served as senior legal adviser/judge advocate general to the adjutant general, commander of the 190th Air Refueling Wing's Mission Support Group and director of staff for the Kansas Air National Guard. He also commanded the state's primary weapons of mass destruction military response unit, the 73rd Civil Support Team. During his time as commander, the 73rd CST successfully responded to real world incidents and was repeatedly recognized as the nation's most proficient team, setting many national records.
As chief of staff of the Kansas National Guard, Dold is the principal executive assistant and adviser to the adjutant general. He manages the National Guard military functions of the joint staff (Army and Air National Guard) and joint military program operations throughout the state.
In this role, Dold manages and directs all joint staff programs that prepare the state for contingency operations in a federal or state emergency including manmade disasters and natural disasters or federal military mobilizations. He is responsible for the integration of the Kansas Army and Air National Guard forces for homeland security missions and in support of emergency management response needs.
Dold is married to Jean Younger and they have two daughters, Kennedy and Crosby.
Copyright 2017 The Lawrence Journal-World. All rights reserved. This material may not be published, broadcast, rewritten or redistributed. We strive to uphold our values for every story published.