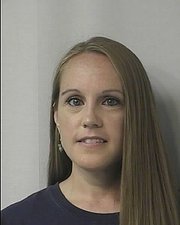 Related document

Jennifer Adams parole terms ( .PDF )
A woman who spent six years in a Kansas prison for killing three people in a drunken driving incident has been arrested on suspicion of driving under the influence in Oklahoma.
Jennifer Lyn Adams, 36, pleaded guilty in Sherman County to three counts of involuntary manslaughter in 2005, after she was involved in an accident on Interstate 70 that killed three Goodland women.
Adams was paroled from prison in July 2011, but moved to Oklahoma, where her parole case was transferred.
In October, Adams was arrested in Bixby, Okla., on charges of DUI, drug possession, driving left of center and transporting an open container.
Those charges have been dropped, but only so prosecutors can refile felony DUI charges against Adams, said Adam Scharn, an assistant district attorney for Tulsa County. Scharn said they learned of Adams' past DUI history only after charging her.
Terms of Adams' parole prohibit her from drinking alcohol. A representative from the Oklahoma Department of Corrections was unable to provide information about whether Adams faced further restrictions as part of her parole conditions, such as being required to wear an alcohol-monitoring device.
It's not yet clear whether Adams had a valid Oklahoma driver's license.
The arrest and charges could also be grounds for Adams' parole to be revoked. A spokesman from the Kansas Department of Corrections did not respond to Journal-World inquiries about the case.
Copyright 2018 The Lawrence Journal-World. All rights reserved. This material may not be published, broadcast, rewritten or redistributed. We strive to uphold our values for every story published.