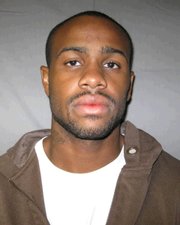 A 23-year-old man accused of shooting a firearm into an occupied vehicle early New Year's Day was charged in Douglas County District Court Wednesday with criminal discharge and possession of a firearm.
Willie D. Fleming, was arrested in the 900 block of Iowa Street after he allegedly fired a gun into an occupied car shortly before 3 a.m., according to police, who located several shell casings during the incident.
Fleming had been at Magic Lounge earlier in the evening, which also was the scene of a large disturbance. However, it's not yet clear whether the shooting and disturbance were related.
Fleming — whose bond was set at $75,000 — also is being held on several Johnson County charges, including aggravated robbery, aggravated burglary and possession of stolen property.
Kansas Department of Corrections records show Fleming absconded from parole Dec. 14. Fleming had been in prison from May 2008 — until his parole in October 2012 — on a drug and assault charge.
Fleming's Douglas County charges are level-8 person felonies, carrying penalties of up to 23 months in prison each.
Copyright 2018 The Lawrence Journal-World. All rights reserved. This material may not be published, broadcast, rewritten or redistributed. We strive to uphold our values for every story published.