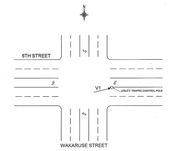 Related document

KHP report of Klock fatality ( .PDF )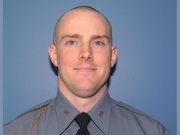 An off-duty Lawrence police officer who died in a single-vehicle accident Jan. 2 at the intersection of Sixth Street and Wakarusa Drive had a blood-alcohol content more than three times the legal limit, according to a report released Thursday by the Kansas Highway Patrol.
Matthew E. Klock, 29, died from injuries sustained when his 2012 Nissan Altima was headed east on Sixth Street and struck a metal traffic pole in the median at Wakarusa Drive. The accident occurred about 2 a.m., and Klock, who was not wearing a seatbelt, was pronounced dead at the scene.
The highway patrol report states that testing showed Klock's blood-alcohol content was .259. The state's legal driving limit is .08.
According to the report, there were no skid marks on the street and it's still unclear how and why Klock's vehicle drifted left into the median.
Klock, who is from the Derby area, had been a member of the Lawrence police since 2007.
The Lawrence Police Department also received the results of the report and issued a statement thanking the patrol for investigating the accident.
"We are saddened by the loss of Matt and our thoughts continue to be with the Klock family," the statement read. "The community support shown to the Department and the Klock family has been greatly appreciated during this difficult time. We thank the Kansas Highway Patrol, and the other agencies that assisted, for their thorough and professional investigation of the collision."
Copyright 2018 The Lawrence Journal-World. All rights reserved. This material may not be published, broadcast, rewritten or redistributed. We strive to uphold our values for every story published.