Winter Weather
Winter weather information
Photo Gallery
Tuesday snow storm
A Tuesday morning, storm left more than 1,500 Douglas County residents without power and streets and trees covered with heavy snow as Lawrence woke up to its second major winter storm in less than a week.
Photo Gallery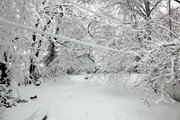 Reader photos
Our loyal readers and residents weathering the storm sent these lovely wintery pictures.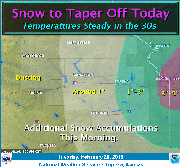 The second snowstorm to move through Lawrence in a week treated the city much less harshly than the first. National Weather Service snow accumulation reports in the city ranged from 5 to 7 inches after today's storm, less than was forecast. And the wet snow made for easier work for city road crews.
City snow plows cleared main roads early in the day and then moved onto neighborhood streets during the afternoon. Last week, that didn't happen until the morning after the storm hit.
"It's heavy. It's wet. It's slushy," city of Lawrence spokeswoman Megan Gilliland said of today's snow. "We're actually seeing some water pooling at intersections from the melting."
Roads could grow slicker at about 9 p.m. when temperatures are projected to drop below freezing, Gilliland said, though remaining treatment on the roads should help.
Roads and highways in Douglas County and beyond, meanwhile, are still in rough shape as the snow storm moves out of the area, according to city and state officials.
Tuesday's wetter snow was easier to plow, but it also stuck to tree branches and power lines in the morning, leading to cracked and fallen trees and power outages for hundreds in Douglas County.
A city primary election went on as scheduled, with most polling places open, but few voters braved the morning snow. Many took advantage of advance voting over the past couple of days to cast their ballots. Turnout picked up a bit during the afternoon, but was still reported light. Polls closed at 7 p.m.
Lawrence officials said trash collection crews were operating today, but alley collections on Tuesday residential routes will be delayed because of the snow. The city will announce the time of those collections later in the week.
Roads outside of Lawrence such as I-70 and K-10 were slower to clear, because of heavier accumulations and blowing snow. At 6 p.m. K-10 and I-70 east of Lawrence were reported to be slushy, and U.S. Route 59 south of Lawrence was still snowpacked. Still, state and county officials said there had been no serious injury accidents reported Tuesday, possibly because so many people were staying home and avoiding the roads.
The Kansas Highway Patrol said troopers responded to a few non-injury accidents this morning, but traffic on the highways around Lawrence was light. Four-wheel-drive vehicles have had success, but most drivers are better off waiting a few hours for snow plows to clear the roads more, Kellerman said.
"Snow always brings out the four-by-fours," he said.
The good news, KDOT spokeswoman Kimberly Qualls said, is it appears more drivers are choosing to stay off the roads today, compared with last week. On Thursday and Friday, Qualls said, many snow plows on highways between Lawrence and Kansas City were blocked by stalled and abandoned cars.
Elsewhere in Kansas, state officials have reported two fatalities on I-70 related to the winter storm that started moving through the state Sunday. One person died in an accident in Ellis County, near Hays, Monday night, and another died Monday morning in Sherman County, near Goodland.
A bit more snow tonight
National Weather Service meteorologist Jennifer Bowen said another inch of snow may fall tonight.
The heaviest snow from this storm fell in a narrow area, which missed Lawrence. Parts of Osage County have reported up to 10 inches.
Because this storm brought less cold air than last week's, today's snow was especially wet, Bowen said. That would explain the reports of falling tree branches coming in to the @LJWorld Twitter account. "That wetter snow tends to stick to everything, including tree limbs," Bowen said.
Journal-World news partner Operation 100 reported overnight that heavy snow was damaging trees and causing power lines to fall. By 7 p.m., Westar was still reporting 140 Douglas County customers without power, but the utility was expecting full restoration before midnight.
Even if the snowfall is largely over, fierce winds will continue to make travel dangerous. Gusts up to 30 miles per hour will continue to blow snow around and reduce visibility overnight and Wednesday morning, Bowen said. "The next two days should be kind of messy," she said. By Thursday, things should be calmer. The NWS 10-day forecast shows temperatures rising above freezing by the weekend and into the 40s at the beginning of next week.
Mail delivery in Lawrence, brought nearly to a halt for two days by last week's storm, was merely slowed by today's snow, said Lawrence postmaster Judy Raney. Nearly all delivery routes should be completed, she said.
Copyright 2018 The Lawrence Journal-World. All rights reserved. This material may not be published, broadcast, rewritten or redistributed. We strive to uphold our values for every story published.