Photo Gallery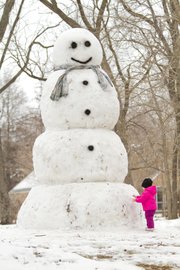 Lawrence residents sculpt snow creatures
When the weather conditions are ripe, a peculiar and grotesque creature surfaces on Second Street in north central Lawrence.
He doesn't have a name, but his creator — 33-year-old Lawrence man Hans Coleman — simply calls him "Snowtoad."
The horned toad has adorned Coleman's front yard every year for the past five years. At least until he melts.
The Snowtoad is just one of numerous creatures piled up, and with the short lull in the winter weather, slumped over, on yards across town Monday. Lawrence residents created everything from Jayhawks, to cozy igloos, to a 6-foot snow replica of the Star Wars character Yoda. Or a "Snowda" if you will.
In North Lawrence, Caleb Bowen, 20, and his family eschewed uniqueness and went for size.
Bowen, with the help of a backhoe from his father's excavating business, built a 14.5-foot snowman, whom they call — what else? — "Frosty."
Frosty started as a few snowballs, and "it just went from there," Bowen said. And he's been scheming about how to take advantage of the new snow.
His plan? Make a Mrs. Frosty.
Copyright 2018 The Lawrence Journal-World. All rights reserved. This material may not be published, broadcast, rewritten or redistributed. We strive to uphold our values for every story published.