In the beginning, surely Nikki White had to think the biggest challenge with her new job as executive director of Lawrence's Health Care Access would be how to not gain 20 pounds in the process.
"My office was in the kitchen, right next to the refrigerator," White remembers of that first office 14 years ago in a cramped East Lawrence building.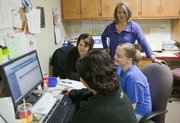 Soon enough, though, there would be other challenges. Like, temperature control. It was a warm August day in 2006 when staff members at the nonprofit health clinic for the uninsured started complaining that the air conditioner was blowing warm air.
By this time, White already had learned that the prestigious position of executive director of Health Care Access involved everything from answering the phones to scrubbing the toilet. So, air conditioner repair wasn't that big of a stretch. She checked the breaker box, fiddled with the thermostat, and finally went out back to check the unit itself. It didn't look too good. In fact, it looked gone. A thief in the night had cut it off the side of the building and hauled it away for its valuable copper.
The clinic just recently had received word that its state funding was going to be cut by $38,000, and as White said at the time "we don't have a stolen air conditioner reserve fund or anything like that."
Then a funny thing happened. A couple who organizes running races called and said they were looking for a new beneficiary of a Lawrence race it holds. Would Health Care Access be interested? Today, that race has become the Health Care Access' Kansas Half-Marathon, and it raises about $60,000 a year for the clinic.
"One of the worst days turned into one of the best days," White said.
Twists and turns like that happen when you are dealing with the uninsured. Not all of them are that pleasant.
There are days when a patient comes into Health Care Access' clinic, 330 Maine, with a sore throat or some other routine ailment, only to get word that it is something much more serious. That happens at any doctor's office. But in this one, when the professionals deliver the bad news, they know they likely are delivering a bankruptcy sentence as well. It doesn't take long for one serious illness to leave an uninsured family broke and busted.
"It is an emotional job," White said.
She said the nurses, the front line of the clinic, take the brunt of it. But for the last 14 years, White has faced a constant pressure too: It takes money to care for the uninsured.
"It is never about the money here, but if there is no money, there is no mission," White said.
Now, it is someone else's turn to carry that worry. White's last day as executive director at Health Care Access was Wednesday.
The new director, Shelly Wakeman, will start in a better place (unless she actually wanted to sit by the refrigerator). The organization left the small East Lawrence building behind several years ago for a larger facility near the hospital. The clinic's budget has grown from about $200,000 when White started to about $800,000 today. The organization now has almost $5 million worth of in-kind donations, everything from pharmaceutical companies that donate medicine to about 20 physicians who donate their time. With 10,000 appointments a year, it is one of the largest primary-care providers in the county, and it sees only the uninsured.
As for White, she said she decided it was simply time to move on. Every organization needs a new set of eyes every few years. She said she looks at this change like a graduation: It is time for Health Care Access to move on with a new part of its life. White too.
"It will be good for me," she said.
White said she doesn't have any immediate career plans. She'll spend time with her two grade school-age boys. The theme of graduation, after all, has been on her mind lately. She can attest that you blink, and they've grown up.
"I'm going to take a break for awhile," she said.
White never has come out and said she's emotionally spent from the job, but she did concede that there have been days. She remembers one better than the others.
She had been out pounding the pavement seeking a new home for the clinic that had badly outgrown its East Lawrence space. Several promising prospects kept falling by the wayside. As her frustration grew, she pulled into the parking lot of the clinic and saw a young girl staring out the window of the front door.
"For some reason, it made me stop and pause," White said. "Why is she here? Is her mom sick? Did her mom just hear she has breast cancer? For whatever reason, it just re-motivated me. It reminds you that we do this because a lot of other people don't have another option."
White had been told "no" all day. A little girl reminded her that lots of other people get told "no" everyday too. And they don't deserve it.
"I wish people would remember that the uninsured are everywhere," White said. "They are folks who help behind the scenes in our everyday lives. Whether they bring the food to your table or watch your kids at daycare or fix your car. They are everywhere."
So, White has just kept going forward. Somewhere the young "pup" — she was just 24 years old when Health Care Access handed her the keys to the place — learned that is what you have to do.
Like everything else as executive director for an uninsured safety net clinic, she learned it on the job.
"There is no training school for this type of job," White said.
That sounds about right. You don't learn caring in a classroom.
Copyright 2018 The Lawrence Journal-World. All rights reserved. This material may not be published, broadcast, rewritten or redistributed. We strive to uphold our values for every story published.