The Wingert household is filled with laughter as Alyson and Dennis Wingert, along with family friend Larry O'Connor, sit in the living room and talk. O'Connor and Dennis banter back and forth and Alyson chimes in with her two cents before the three chuckle and carry on.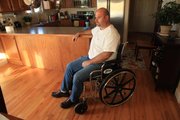 O'Connor said Dennis has always been an optimist, and his positive attitude is helping him to heal.
Dennis is recovering from a serious accident while he was on the job as a pipefitter. A piece of industrial air-conditioning equipment weighing more than 7,700 pounds fell on top of him, breaking multiple bones. Less than seven weeks later, it's hard to recognize that Dennis had even been injured. If not for his wheelchair, he looks to be in positive health. He has no visible casts or bruises, the scar on his face is barely recognizable and he wears a smile continuously. Dennis is out of the hospital, living at home and doing what he can to quicken the healing process. Mainly, he's keeping his positive outlook on life.
The accident
On Dec. 27, Dennis and his brother were installing an industrial air-conditioning unit in Lawrence. They were moving a piece of it into position when it fell over on Dennis, who had been kneeling facing the equipment. He ended up face down with the piece of equipment on top of him from his waist up.
"I never did panic," Dennis said. "The thought of dying never occurred. I wanted it off me though, that's for sure."
As Dennis lay trapped under the equipment, he could see a pool of his own blood growing on the floor. He could tell his nose was broken, but he wasn't sure where the rest of the bleeding came from. He hoped there was nothing stuck through him.
"I'm not going to lie: It was gruesome, and I was the star of the horror show," Dennis said.
About three minutes after the equipment fell on him, Dennis' brother and another coworker were able to get him free, and an ambulance arrived moments later. Once at Lawrence Memorial Hospital, it was determined that the severity of his injuries required a transfer to the Kansas University Hospital Trauma Center.
Dennis had a broken left arm, two broken vertebrae, a broken nose, a broken right leg, and a 5-inch laceration from his ear down his cheek.
When he arrived at KU Hospital he underwent eight and a half hours of surgery, plus another two hours to sew more than 200 stitches in the laceration on his face. When the surgeon was finished, he told Dennis's family he couldn't believe Dennis had even survived.
"He said (Dennis) had 'Hulk' genes and that the width of his shoulders and his muscle mass is what saved his life," Alyson said.
Dennis stayed at KU Hospital for a week before being transferred back to LMH for two more weeks for rehabilitation therapy. He's been back at home in Lawrence for about a month.
Positive outlook
Dennis said this is the biggest challenge he's faced in his entire life. But instead of focusing on how unfortunate it was that it happened, he and Alyson are focusing on his making a full recovery.
"Everything depends on how you look at it," Dennis said. "It's a crisis when things like this happen. You can be reactive or proactive, and you have to make the decision for yourself."
When Alyson received the call about Dennis being in the emergency room, she had to prepare herself for the worst and hope for the best. She knew she would find a way to deal with whatever happened.
"No matter what the outcome is, you don't have a choice," Alyson said.
The Wingerts have had to adjust their lifestyle at home. Instead of riding motorcycles and spending time outdoors, the two watch movies and stay indoors. But they know it is only temporary.
Dennis said when he tells people he is looking forward to his outsource therapy, even if it is painful, they look at him like he's crazy. But he's ready to move forward with life.
"I'd say his attitude gets better every day, and it was good when he started," his friend O'Connor said.
During his time at the hospital, Dennis had more than 10 visitors a day. One nurse teased him about having a big fan club. Friends and family pitched in once Dennis was home, too. Coworkers cooked meals, a neighbor lets out the dog, and the flow of friends visiting Dennis is still constant.
The Wingerts said they're so grateful for the support the community has shown them and know that without them the road to recovery wouldn't have been as smooth.
"How do you repay these people?" Dennis said. "God forbid anything happen to anyone, but I'll make it a point to pay it forward."
Copyright 2018 The Lawrence Journal-World. All rights reserved. This material may not be published, broadcast, rewritten or redistributed. We strive to uphold our values for every story published.