The snowfall has largely put U.S. Postal Service mail delivery on hold for the area, likely until Saturday, Lawrence postmaster Judy Raney said.
Postal workers attempted to deliver mail Thursday, Raney said, and a few streets that had been plowed received deliveries. But most routes weren't completed.
"Everybody just got stuck," Raney said.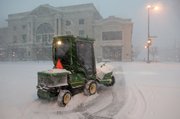 Photo Gallery
Snow storm hits Lawrence
The predicted snow hit Lawrence Thursday morning leaving several inches on the ground before noon, with more on the way.
City Snow Ordinance
The city will begin writing tickets for snow-covered sidewalks at 8 a.m. Monday, according to a city press release. Here's a reminder about the rules:
• Property owners are required to clear sidewalks of snow within 48 hours of the end of a snowfall.
• If more snow falls this weekend, the Monday deadline may be changed.
• The city may issue a $20 fine, plus court costs, to owners failing to clear sidewalks immediately adjacent to their property.
• The ordinance applies to residential and business properties.
• City officials say that, considering the large quantities of snow involved, a property owner will not be fined if an attempt has been made to clear the sidewalk.
• The city does not actively patrol for violations, but residents may file a complaint about a sidewalk online or by phone, 785-832-7700.
Staying on the road
• Turn your headlights on, and turn your cruise control off.
• Maintain a safe distance from vehicles ahead in traffic, especially slow-moving snow plows.
• Clear snow off the hood and roof of your vehicle before driving to avoid creating a distraction to other drivers.
— Source: Kansas Department of Transportation
Friday, she said, workers were making deliveries mostly on schedule. But now there's a new problem: Post offices in the Kansas City area received little mail for Friday, because offices weren't able to send anything to the Kansas City, Mo., sorting plant on Thursday.
"Essentially, we received no mail," Raney said.
The regular flow of mail won't resume until Saturday, she said, when all steps in the pipeline will have returned to normal.
"Everything should catch up in that timeframe," the postmaster said.
Making progress
City street-plowing crews moved onto residential streets Friday, city of Lawrence spokeswoman Megan Gilliland said, with about 24 more hours of work likely ahead of them before they're finished.
The crews are focusing first on hilly neighborhoods, Gilliland said, and they were to move into flatter areas as the day progressed.
"They're still on their 12-hour shifts, 24 hours a day," she said.
Their first focus on Thursday, as in any winter storm, was clearing main streets, she said. But as snow continued throughout the day and piled up to nearly 11 inches total, crews had to make repeated passes to clear what the city calls "collectors and arterials."
"That is an awful lot of snow to plow out of the way," Gilliland said.
Crews will continue to work constantly through Saturday, she said, finishing up plowing, hauling off snow in neighborhoods and cleaning up.
But their work won't be over: They'll be back Sunday to prepare for another possible snowstorm forecast for Monday.
Roads will continue to be hazardous even as snow plows clear them, said Kansas Department of Transportation spokeswoman Kimberly Qualls. Snow is likely to remain piled in narrow areas such as ramps, interchanges, flyovers and bridges, and stalled vehicles may make such areas even worse, blocking traffic and snow plows.
This weekend, ice is likely to thaw and refreeze, Qualls said, making black ice a particular danger at night.
This week's storm also slowed the city's waste pickup for residents whose trash day is Thursday.
Workers were able to complete about 50 percent of their Thursday trash routes before the weather became too severe, Gilliland said. Crews went back out during the day Friday, as road conditions allowed, to pick up the rest.
On other roads
Most roads around Lawrence remained snowpacked Friday morning, but improved throughout the day, said KDOT spokeswoman Kimberly Qualls. A KDOT map updated at about 11 a.m. showed the Kansas Turnpike partly snowpacked and icy, from Lawrence to Kansas City. It showed the turnpike mostly clear from Lawrence to Topeka.
Around Lawrence, roads were mostly, "slushy," according to the KDOT map. Kansas Highway 10 was listed as partly slushy, but many drivers said they found it clear and easy to drive Friday afternoon. Snow was largely cleared from U.S. Highways 59, 24 and 40, and Kansas Highway 16, though the map showed some slush remained on those, too.
Snow was also cleared from other roads, including Interstate 35 and U.S. Highway 69 in Johnson County, which still retained some slush they approach Kansas City, according to the map. In many places, snow plows continued to meet obstacles in stalled and abandoned vehicles, Qualls said.
Take it slow
Police and fire department officials have said the toll of Thursday's storm was not been as bad as some had feared.
There were no fires, said Lawrence-Douglas County Fire Medical Chief Mark Bradford, except for two car fires Thursday afternoon. And medical emergency staff have not been called to any serious medical emergencies related to the storm.
But, Bradford said, he suspects the fire department's services may be needed more as people continue to deal with the storm's aftermath. His advice to people digging their way out of the snow: shovel in stages, and take breaks to recover.
Drivers in Lawrence continued to get stuck in the snow and ice, and police responded to several stranded motorists and one non-injury accident Friday morning. Since Thursday morning, police have responded to one minor-injury accident, 90 motorists in need of assistance and nine non-injury accidents, said Sgt. Trent McKinley, a Lawrence Police Department spokesman.
There were so many motorists sliding off of roads and finding their cars buried in snow that tow truck companies could hardly keep up. At Quality Towing and Recovery, 529 Maple St., the phone rang off the hook all day Thursday and calls continued to come in Friday, said dispatcher Mindy Schall. Even the tow trucks became stuck at times, so employees brought in their own four-wheel drive vehicles for support.
"We were trying to help everybody out and keep ourselves rolling at the same time," Schall said.
Like Bradford, McKinley said he expects more accidents and incidents Friday. Many fender-benders from Thursday may still be reported to police, he said, and drivers may be tempted to go faster as residential streets are cleared. McKinley said people should remember that speed limits are meant for ideal conditions, and seat belts are as important in snow conditions as ever.
Douglas County sheriff's deputies responded to more than a dozen slide-offs and stranded motorists on Thursday, said Sgt. Steve Lewis, a Douglas County Sheriff's Office spokesman, but no injury accidents. On Friday, Lewis said, the county saw many fewer such incidents.
Across the state, highway troopers responded to 1,454 stranded motorists and abandoned vehicles Thursday, according to the Kansas Highway Patrol. Troopers also responded to 15 injury accidents, none of them fatal, and and 15 injury accidents, none of them fatal, according to the Kansas Highway Patrol. Troopers responded to 106 no 106 non-injury crashes.
County roads returning to normal
Most county roads in Douglas County have been cleared of snow. But officials say their work is not over, and there may be more snow on its way early next week.
"There's still quite a bit of work to do, Douglas County Public Works Director Keith Browning said. "We still need to push snow back from the edge of the roads. Gravel routes still need quite a bit of work. Those were opened up late (Thursday) afternoon, and they're still pretty narrow. But the paved county roads are in pretty good shape."
Browning said road crews began working in alternating 12-hour shifts at 7 p.m. Wednesday, which turned out to be several hours before the heaviest part of the storm hit the area. Their first priority was to clear the roadways themselves to make them passable. Next they'll go through to push the snow farther off the side of the roads so they can drain, preventing the melted snow from freezing into a sheet of ice.
"One of the issues that's always a concern is a refreeze of the roads," Browning said. "We're trying to get them drained on the sides so they don't refreeze at night."
Douglas County Administrator Craig Weinaug said residents of rural Douglas County may encounter different conditions on their local township roads, which are maintained separately by the township governments.
County roads are designated with "Route" numbers and are marked with blue pentagon-shaped signs. Most county roads are paved, he said.
Most township roads are gravel and are designated with directions and numbers, such as North 1400 Road, or East 350 Road.
Weinaug said the level of road maintenance provided by township governments varies throughout the county. Some townships have only a single part-time employee to plow roads after a snow storm.
Douglas County maintains about 203 miles of county roads, measured by the center line of the roads, Browning said. That works out to more than 400 lane-miles of roadway.
Browning said maintenance crews used 14 vehicles of various types and sizes to clear the roads.
The National Weather Service is predicting a 60 percent chance of light rain or snow in Douglas County starting Sunday night and continuing through Monday.
Copyright 2018 The Lawrence Journal-World. All rights reserved. This material may not be published, broadcast, rewritten or redistributed. We strive to uphold our values for every story published.