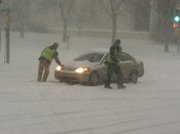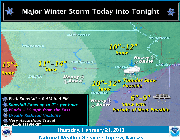 Winter Weather
Winter weather information
• 8:15 a.m. Update
As predicted, heavy snow began falling in Lawrence just after 7 a.m. this morning. The heavy accumulation is expected to continue throughout the day, with up to three inches of snow per hour.
Lawrence roads are snowpacked, as are major highways and other roads in the state, including Interstate 70 and Kansas Highway 10.
Emergency dispatchers have been sending out medical and law enforcement personnel to numerous traffic accidents, but there doesn't appear to be any initial reports of serious injury accidents.
• Midnight Update
The National Weather Service is forecasting as much as a foot of snow for the Lawrence area Thursday as a major winter storm moved in overnight. Snow started falling around midnight, but most of the snowfall is expected during the day Thursday, possibly coming down at a rate of as much as two inches an hour.
Kansas University and school systems around the area canceled classes for Thursday. Other organizations, including the state Legislature, said they were suspending activities for the day. For a complete list of closings, click here.
The bulk of the snow is expected between during the day. Thursday, and the NWS said travel will be "nearly impossible late Thursday." A winter storm warning is in effect for the Lawrence area through midnight Thursday.
The weather service's forecast is for heavy snow that began just after daylight early Thursday morning, accumulating about six to 10 inches. An additional one to two inches may accumulate Thursday night.
Safety tips
The Kansas Department of Emergency Management provided the following tips to stay safe during the storm:
• Prepare an emergency home preparedness kit with food, water and other essentials, such as medication.
• If your power goes out, and must use a gasoline generator, keep the generator outside and away from the home.
• Drive only if necessary and have a winter kit ready, which should include ice scrapers, blankets, flashlights, jumper cables, a tow rope and matches.
City crews were working 12-hour, round-the-clock shifts in preparation for the storm, according to a news release issued Wednesday by a city of Lawrence spokeswoman.
Crews also completely pre-treated roads throughout the city. The pre-treatment process is "able to provide a barrier which breaks the bond between the snow/ice and pavement," according to the release.
When snow begins to fall, city crews will focus on clearing roads. However, because of the heavy snow accumulation expected, some roads may not be completely cleared until Friday and into Saturday.
"We have already called in additional resources to help out," said Mark Thiel, assistant public works director. "Additional city departments and private contractors have already been put on notice for assistance."
The release advises motorists to stay off the roadways during the storm if possible.
City crews will also be collecting trash early Thursday morning, and residents with Thursday pick-up times were asked to set their trash out Wednesday evening.
Area residents have been stocking up on supplies in anticipation of the storm.
To check city updates on snow conditions and closures, including a traffic map with intersection cameras, click here to check out the city's local snow resource website.
Copyright 2018 The Lawrence Journal-World. All rights reserved. This material may not be published, broadcast, rewritten or redistributed. We strive to uphold our values for every story published.