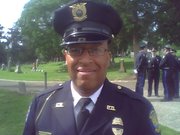 A 20-year veteran of the Lawrence Police Department — fired last March following traffic ticket fixing allegations — filed a lawsuit Tuesday in federal court alleging racial discrimination and wrongful termination.
According to the lawsuit, filed by former Sgt. Michael Monroe, who had worked for the Lawrence police from 1991 until March 2012, was terminated for "false and fabricated reasons that were released in public statements to the media. In actuality, Monroe was denied due process and terminated because of his race."
Monroe is seeking $1.3 million in damages in the lawsuit, which names the city of Lawrence and Lawrence Police Chief Tarik Khatib as defendants.
In the lawsuit, Monroe admits to fixing two or three traffic tickets during a span of several years for former Kansas Athletics employee Rodney Jones, who has since been sentenced to federal prison for his role in a broader ticket scandal.
However, Monroe denies that he knew that fellow police Sgt. Matt Sarna, who resigned "involuntarily" Feb. 24, 2012, was receiving KU athletics tickets in exchange for fixing the traffic tickets. Sarna, according to the court documents, requested that Monroe fix the tickets.
Sarna, who is white, was allowed to resign from his position, while Monroe, who is black, was demoted, then fired. Monroe alleges that race played a factor in the city's decision to fire him, but allow Sarna to resign.
Monroe had unsuccessfully appealed his termination through the city's grievance process.
In court documents, Monroe also alleges numerous instances during which fellow police officers used racial and derogatory slurs in reference to Monroe's race.
David Corliss, city manager, declined comment on Tuesday, saying the city "does not comment on personnel or litigation matters."
Monroe on Monday released this statement in advance of filing the lawsuit:
"I just want to be treated fairly and want the opportunity to continue in the career that I love serving the people in my home town of Lawrence, Kansas. I would also like to express my gratitude to my family, friends and all of the people in the community who have supported me over these last few months."
Earlier this year, the Kansas Commission on Peace Officers' Standards and Training, or KSCPOST, received "notice of termination" forms from the Lawrence Police Department for Sarna and Monroe.
Such forms, required when an officer in the state leaves a department, prompted the commission to investigate the cases. The investigation could have led to license revocation, barring Monroe and Sarna from working in Kansas law enforcement.
But after an investigation, no such action was taken and the case was closed, according to a spokesman for KSCPOST. The agency, however, does not comment further in such cases.
Monroe was promoted to sergeant in 2004, and he worked as a patrol supervisor until 2009. He later moved to the office of professional accountability. In 2011 he became a sergeant in the investigations division.
* For more on the contents of the lawsuit, click here.
Copyright 2018 The Lawrence Journal-World. All rights reserved. This material may not be published, broadcast, rewritten or redistributed. We strive to uphold our values for every story published.