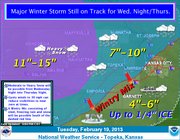 With a winter storm expected to hit the area Wednesday evening, city crews already have started prepping city streets.
"We've all been watching the weather," said Megan Gilliland, the city's communications manager. She also said crews plan to pre-treat the entire city by storm time.
A Winter Storm Watch that was issued Monday by the National Weather Service will be in effect from Wednesday evening until Thursday afternoon. The Lawrence area could see between 6 and 10 inches of snow, in addition to ice accumulation.
The NWS service warned of treacherous travel conditions throughout the area, particularly Wednesday evening and Thursday morning.
Gilliland said she'll meet with city officials Tuesday and Wednesday solidifying road crew plans, adding that crews will be out in full force Wednesday afternoon.
• Click here to check out the city's local snow resource website.
Copyright 2017 The Lawrence Journal-World. All rights reserved. This material may not be published, broadcast, rewritten or redistributed. We strive to uphold our values for every story published.