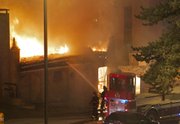 Cadaver dogs were searching through the smoldering rubble of a Kansas City restaurant after a gas explosion sparked a massive blaze Tuesday evening in an upscale shopping district.
More than a dozen people were injured in the blast and resulting fire, which occurred just after 6 p.m. and completely destroyed JJ's restaurant. But as of late Tuesday there were no reports of fatalities.
Despite that, Kansas City Fire Chief Paul Berardi said late Tuesday that cadaver dogs were called to the scene as a precaution because of the size of the conflagration.
"I would always fear there are fatalities in a scene like this," Berardi said.
He said results of the search would take hours and that he expected his crews would be working the scene through the night.
Earlier City Manager Troy Schulte said it appeared an accident by a utility contractor had caused the blast, and a statement from utility Missouri Gas Energy late Tuesday reiterated that possibility, but Berardi and others cautioned that the cause was still being investigated.
"This investigation is ongoing," Berardi said. "We do have reports that there was an odor of gas earlier. But, again, this investigation needs to be concluded before we want to speculate on any of that."
Indeed, the smell of gas was very strong in the area hours after the blast. Berardi said the gas utility, Missouri Gas Energy, stopped the flow of gas about 8 p.m., and utility workers could be seen working in the area after the blast.
Initially Kansas City police had said the blast had been caused by a car crashing into a gas main. Fire and city officials later said they were not aware of a crash being involved in the blast. Other witnesses noted street signs in the area indicated utility work was being done in the area, and a worker at a restaurant destroyed in the fire said the facility was being renovated at the time.
Mayor Sly James was at the scene after the blast, praising the work of first responders.
"The first thing we need to be concerned about is the people that are injured," James said.
Police Sgt. Tony Sanders said the manager of JJ's restaurant was unable to account for three people, but it was unclear whether they were caught in the blaze or had left earlier. Later on Tuesday evening, Jim Ligon, a JJ's bartender, said they were still waiting to hear from one co-worker, whom he declined to name.
Kansas University Hospital was treating six people injured in the blast, spokesman Bob Hallinan said. He said one person was in critical condition, two were in serious condition and two others were expected to be released. He said all of those injuries were traumatic, such as broken bones, rather than burns or smoke inhalation. The final patient there was a burn victim who was transferred from Truman Medical Center, Hallinan said.
Dr. Marc Larsen, medical director of the emergency room at St. Luke's Hospital, which is near the scene of the fire, said they had treated eight people, six of whom were walk-ins with minor injuries. He said two males were in critical condition and would be kept overnight. He said one had extensive burns and another had facial trauma.
The shopping area was established in 1922 by J.C. Nichols. Based on the architecture of Seville, Spain, it includes retail, restaurants, apartments and offices.
Copyright 2018 The Associated Press. All rights reserved. This material may not be published, broadcast, rewritten or redistributed. We strive to uphold our values for every story published.