A 19-year-old Horton man was sentenced Tuesday to almost three years in prison after being found guilty of two counts of aggravated burglary stemming from two August incidents in Lawrence.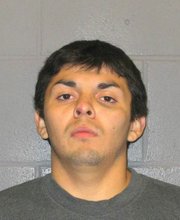 Douglas County District Judge Michael Malone sentenced Austin Lee Whitebird to 32 months in prison. As part of a plea agreement with prosecutors, Whitebird admitted entering two Lawrence homes on Aug. 24 and trying to assault two women as they slept.
The two women, who lived next door to each other south of the Kansas University campus, awakened to find Whitebird climbing into their beds. Police investigating the first incident arrested Whitebird after seeing a man chasing him from the scene of the second incident. The man, responding to the apparent assault on his girlfriend, had struck Whitebird in the head with a pot, bloodying him.
Whitebird pleaded no contest to the aggravated burglary charges in December, and two misdemeanor counts of sexual battery were dropped as part of the plea agreement.
In court on Tuesday, Whitebird's court-appointed attorney, J.C. Gilroy, said Whitebird committed the offenses while severely intoxicated and had no memory of either incident. He asked the judge to sentence Whitebird to probation on the condition that he enter a drug and alcohol rehabilitation program in Omaha, Neb.
Letters from the two victims of the crimes, which prosecutors read aloud in court, asked that Whitebird be ordered to drug and alcohol rehabilitation but also that he be incarcerated.
Malone said he was unconvinced Whitebird committed the offenses blindly under the influence of alcohol, noting the repeated pattern of the break-ins and the apparent aim to commit a sexual offense.
"Those actions show intent, Mr. Whitebird," Malone said. "I think you knew what you were doing."
In consideration of Whitebird's youth and the influence of alcohol in the offenses, Malone ordered two 32-month sentences, one for each offense, to run concurrently.
• To view recent LJWorld crime stories, click here.
• Click here to view the weekly arrest log.
Copyright 2018 The Lawrence Journal-World. All rights reserved. This material may not be published, broadcast, rewritten or redistributed. We strive to uphold our values for every story published.