For once, earlier this month, Shannon Livengood got to talk to some other people who do what she does. Then she defeated them in a competition.
Livengood, a Kansas University sophomore, is the baton twirler for the KU marching band. Earlier this month she won an intercollegiate national championship. But perhaps the best part of the experience, she says, was getting to hang out with others who practice what can be quite a solitary art at the college level.
"Not very many people have twirling in common with you," Livengood said, "so when we get together at competition, it's really good."
At the Ninth Annual U.S. Intercollegiate and National High School Baton Twirling Championships on Feb. 3, she competed against other twirlers from Kansas State University, the University of Texas and a handful of other schools at William Jewell College in Liberty, Mo. They twirled one, then two, then three batons, went through their usual pregame fight-song performance and then performed a freestyle routine. (The three-baton routine is always a "real good crowd-pleaser," Livengood says.)
After the scores were totaled, Livengood was on top.
When she first picked up a baton at 4 years old, her sister and cousin had twirled before her. Others twirled alongside her at the dance studio in her hometown of Clay Center, where she learned the art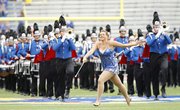 as she grew up and went through high school, going to state, national and international competitions.
"It was always fun for me, and kind of what I did to get away from school and everything else," Livengood said.
But none of those other people twirled in college. No one twirled batons at KU for three years before Livengood arrived, and she's the only twirler now.
She's part of KU's Marching Jayhawks, but as feature twirler she functions as her own choreographer and coach.
"She's her own section," said Matthew Smith, director of the Marching Jayhawks.
She practices alongside the band during marching season, but she also spends hours alone in KU's Robinson Gymnasium, practicing and choreographing routines while playing a recording of the band's upcoming show.
"It's part of the job," Smith said.
To keep herself going, she sometimes calls her old coach in Clay Center for motivation. Or she just thinks of the next home football game, when she'll feel the adrenaline rush and feel her nerves wash away as she runs into the stadium and gets down to what the job's really about: giving tens of thousands of fans a show.
"You know that there's going to be a game Saturday, whether you're ready or not," Livengood said.
This year she's also performed during halftime for the men's and women's basketball teams during one game each. And she'll hit a competitive circuit during the summer, progressing through state, regional and national contests.
The competition Livengood won earlier this month is the only one where she represents KU, she said. The organization that organizes it, the National Coalition for the Advancement of Baton Twirling, aims to make it a competitive sport among high schools and colleges.
One of Livengood's goals is to find someone to step in and replace her when she graduates. She landed the feature twirler position after the mother of KU's previous twirler spotted her at a competition in Salina.
Smith said it was wonderful that Livengood had earned herself and the Marching Jayhawks some recognition, but he said where she helps the band best is with her ability to connect with the fans at Memorial Stadium on Saturdays in the fall.
"It's the equivalent of a singer having a great stage presence and being able to interact with the audience," Smith said, and Livengood has it down.
Copyright 2018 The Lawrence Journal-World. All rights reserved. This material may not be published, broadcast, rewritten or redistributed. We strive to uphold our values for every story published.