A little bit of playful razzing comes with the territory for Brett Bochy. He gets it.
The former Kansas University pitcher is in his first big league camp for the San Francisco Giants. And, his dad's the manager.
"It's pretty special to have your son here, I'm not going to lie," Bruce Bochy said Saturday.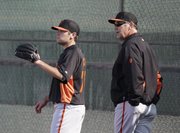 Reliever Jeremy Affeldt plans to remind the right-hander about it regularly — good-naturedly, of course.
"Only seven or eight times a day," Affeldt said. "We're going to ask him every day: 'Where do we go? Who we putting in today, Boch?'"
A quick poll around the clubhouse will tell you that Bochy's teammates know the pitcher earned this opportunity.
San Francisco selected Bochy in the 20th round of the 2010 draft out of Kansas, two months after elbow ligament-replacement surgery, and he has made an impression on the Giants' brass nearly three years later. He went 7-3 with a 2.53 ERA and 14 saves in 41 appearances and 51 1-3 innings last year for Double-A Richmond. Fatigued down the stretch last season, the coaches plan to closely monitor his workload this spring training.
A manager's son being in camp is not unprecedented. Two years ago, Detroit skipper Jim Leyland's catcher son, Patrick, received a spring training invite from the Tigers.
"All the guys have said it. They realize that it's special. It's something to take in and really just enjoy and embrace it," Brett Bochy said. "They've seen me over the past few years and know I'm not just getting here because of my dad. I've pitched my way here, earned my way here. Now it's time to embrace it and enjoy it."
General manager Brian Sabean will certainly vouch for the reliever.
With so many players from the reigning World Series champions headed for the World Baseball Classic this spring, the Giants needed some added depth for the exhibition schedule. Bochy plans to use every opportunity to improve.
"He's earned it. He had a real nice season," Sabean said. "Half the bullpen's in the WBC, so he's going to get a chance."
While Bruce Bochy caught his son on several occasions over the winter back home in San Diego, they're all business now. That doesn't mean when the work day is over and they leave the ballpark that father and son won't share a meal at the manager's place.
"He doesn't really get down (in the crouch) because he's getting up there, but he stills play catch with me. He's there to work with me," Brett Bochy said. "It's special that he's here with me and to share this experience with him. Once we're on the field, he's my coach. When we leave, he's Dad again."
Bruce Bochy watched his son's first spring training bullpen Wednesday from a few feet away. During Saturday's first full-squad workout at Scottsdale Stadium, he didn't have a chance to see his son.
"That's a little added stress I don't know if I needed to have him here," the skipper said. "But I'm proud of him. He had a great year last year. He's worked hard to get to this point, he's earned this invite with the job that he did last year. He had a lot to overcome with the Tommy John and he's healthy. ... It's always a neat thing to be out here and to have your son out here with you."
They don't live together in Scottsdale. Brett Bochy stays at the team hotel.
His roommate throughout the minors, Mike Kickham, is thrilled about this chance.
"He's definitely earned his way. Him being Bruce's son has nothing to do with him being here, he's very talented and he gets the job done on the field," Kickham said. "He has earned his way here, and his performance speaks for itself."
Brett Bochy isn't thinking about where he will be placed this season, though he hopes to be promoted to Triple-A Fresno.
"I'm going to come up here, see what they have to say, take it all in and get better," he said. "You can only control what you can control. You can't control where you're going to go after spring training."
Two-time NL Cy Young Award winner Tim Lincecum understands there are certain challenges when your father's the coach. His dad taught him to pitch growing up in the Seattle area.
"Getting to see his face in here and out on the field is different, just because he looks so much like Bochy," Lincecum said. "It's kind of cool and surreal. I'm glad for him and happy for him that he gets the opportunity. He's definitely earned it. He deserves to be here. I remember when my dad was my coach, it was kind of the hardest part because you wouldn't want to (tick) him off all the time. You feel like everything you're doing he's watching you and criticizing you. I'm pretty sure he's probably feeling the same way."
Copyright 2018 The Associated Press. All rights reserved. This material may not be published, broadcast, rewritten or redistributed. We strive to uphold our values for every story published.