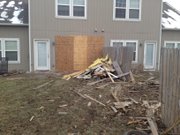 A driver on Kansas Highway 10 on Saturday lost control of his pickup truck and drove through the back of a house in the 2000 block of East 23rd Terrace.
About noon Saturday, the driver was heading westbound on K-10 approaching Lawrence when he lost control of his vehicle, crossed the median of K-10 and the eastbound lanes, and crashed through a fence and into the kitchen area of the house, said Lawrence Police Sgt. Kirk Fultz. There were no injuries reported in the incident; however, the house, at 2014 E. 23rd Terrace, was badly damaged. The structure was deemed uninhabitable and the fire department braced the house as a precaution before the truck was removed and towed away.
No drugs or alcohol were involved in the incident, and no arrests were made, according to a police report.
Copyright 2018 The Lawrence Journal-World. All rights reserved. This material may not be published, broadcast, rewritten or redistributed. We strive to uphold our values for every story published.